Are you ready for some Squishmallow excitement?
Grab your Pokemon gear because we've got some exciting news: The 2023 Pokemon Squishmallow Squad just dropped its second phase, and Snorlax is creating a stir like never before!
This adorable and squishy creature has quickly become a fan favorite, and it's no wonder why - he's rare, he's cute, and he's hard to find!
Now, let's explore why Snorlax the Squishmallow is so extraordinary.
Get ready to add this little guy (ok, he's big) to your squad, and let the fun begin!
How We Choose Our Favorites
Our Squishmallow team has personally chosen this newly-released Snorlax Squishmallow as a must-have for all Pokemon fans! And this ultra squeezable Pokémon plush is fun for everyone!
As always, this Squishmallow has passed the super cute and cuddly test!
When selecting Squishmallows, we only choose ones that are  100% authentic Squishmallows plush from Kellytoy. All Squishmallows are made with high quality materials and feature dependable craftsmanship and an irresistibly soft marshmallow-like filling – making them the perfect item to cuddle up with on long car rides!
With an iconic Pokémon lovable Snorlax, you can't go wrong!
Be Prepared: This brand-new release has caused a Squishmallow craze all over again! That means this collectible Pokémon plush will quickly begin to go out of stock. (Oh, no!)
Don't sweat it; If you hear Snorlax is hiding out somewhere, you can grab up his other squad members, Pikachu and Gengar, until he comes out of hiding!
*️⃣
As an affiliate and associate of Amazon and other products, we do earn from certain qualifying purchases.
You can
read more about us here.
Get To Know Snorlax!
Are you a fan of Pocket Monsters? If you are, then you'll love Snorlax. This noseless bear-like Pokémon has become even more adorable as a Squishmallow.
Sporting a cream-colored signature sleepy face and a teal body, Snorlax's big head and two small canine teeth on his lower jaw make him all the more endearing.
In "real life," he's got large feet that help maintain his balance, and despite his short arms, Snorlax can grab food and eat with ease.
Plus Snorlax's ears are pointy, blue, and cute! This snuggly creature is ready to stand by your side as your loyal companion.
Apart from being irresistibly cuddly, this Squishmallow is the perfect addition to your collection.  When it comes to one-of-a-kind creatures, Snorlax takes the cake (or should we say the snack bar?)
Perfect buddy for both nap time and snack time!
Shop This Product!
Introducing the one-of-a-kind collectible Snorlax Squishmallow that will make you the envy of all Pokémon fans!
His popular character weights over 1,000 pounds! This adorable plushie is was once know as the heaviest existing Pokémon. But don't be fooled by his size, Snorlax has a belly so big that kiddos love to play on it.
Snorlax comes with an enormous appetite! He can gobble down almost anything, even moldy and rotten food with no worries. Thanks to its super-potent digestive juices, it can dissolve any poison and protect itself from harm.
But wait, there's more! This Squishmallow has a hidden potential to unleash tremendous power when holding the Snorlium Z item, allowing it access to its signature move, the Pulverizing Pancake.
Not only is this Pokemon plushie incredibly cute and cuddly, but it's also a force to be reckoned with.
In the process of localizing the Pokémon games for Western audiences, Nintendo did a great job of giving each Pokémon species clever and descriptive names that relate to their physical appearance or unique features, thereby making the characters more relatable to American kids.
Thankfully, this approach gave birth to the beautifully designed Snorlax, a character whose name is derived from its constant sleeping spells.
The name Snorlax is a playful combination of the words "snore" and "relax."
This adorable and cushy Snorlax Squishmallow is a must-have collectible for all Pokémon enthusiasts.
From its signature bright blue and white coloration to its irresistibly squishy texture, it's impossible not to fall in love with this cuddly creature.
Snuggle up with Snorlax after a long day, or use it as a comfy pillow on long journeys, regardless of how you choose to use it, this Squishmallow is sure to help you relax and recharge.
Don't miss out on the chance to add this to your growing Pokémon collection!
More Important News!
Togepi and Snorlax new Squishmallows have been released, but we haven't spotted Togepi on Amazon yet! We're guessing these Togepi Squishmallows will show up anytime now and quickly become another Pokémon collectible!
Squishmallow FAQs
We've compiled a list of the most frequently asked questions about Squishmallows plush! It's possible you are new to the world of Squishmallows - almost impossible, but it could happen! Read on for lots of fun info, and if you're on the fence about your purchase, this information might help you decide!
What is a Pokémon?
A Pokémon is a fictional creature in the Pokémon video game series. Pokémon are creatures of all shapes and sizes who live in the wild or alongside humans. Each Pokémon has unique abilities and powers. Players of the game, known as Pokémon Trainers, capture, battle, and train Pokémon in order to become the strongest Pokémon Trainer. Is there such a thing as a favorite normal type Pokemon? Nope - they're all lovable!
Are Pokémon Squishmallows really new?
Yes, the first Pokémon Squad Squishmallows were released in stores in January 2023. These Squishmallows are part of the new Squishmallows lineup - a new line of plush toys that feature characters from the famous Pokémon company. These soft and cuddly toys are made with super-soft marshmallow-like texture and are perfect for snuggling up with and collecting. They come in a variety of sizes and styles and make a great gift for any Pokémon Company fan.
Will there be more Pokémon Squishmallows?
Yes! A rollout of more Pokemon Squishmallow characters is expected to occur throughout 2023 - and we're guessing the fun will continue for years to come! As of today, we've seen Pikachu, Gengar, Togepi, and Snorlax Squishmallows from the Pokémon company! You can check out the Squishmallow fandom site that has "unofficial" information on what's in the works!
What age ranges like Squishmallows?
Squishmallows have become a beloved toy among children of all age groups, including adults. They are made from soft spandex polyester stuffing and make a unique gift to show your appreciation on any occasion!
Are Squishmallows safe for small children?
For very young Squishmallow lovers, always opt for ones without small adornments and other decorative pieces that could cause choking or other hazards. Double-check the Squishmallow tag for age suggestions. Most will say they are safe from ages zero and up.
What materials are used to make Squishmallows?
Squishmallows are made of a marshmallow-like material and packed with an ultra-soft stuffing crafted from 100% recycled polyester fibers. This special combination gives them their distinctive, super soft, cuddly texture-- one that's both cozy and squishy to the touch!
Can you put Squishmallows in the washer? Or in the dryer?
For best results and long-lasting cuddliness, spot clean with a damp cloth. For longest life, do not put your Squishmallow in the dryer. It's best to let it air dry.
If necessary, machine wash with mild detergent, and tumble dry low. But please hand wash and air dry those with delicate parts and pieces or other special appliques, fuzzy materials, accessories, and ornaments.
When Did the Squishmallow Craze Begin?
The first-ever Squishmallows made their debut in 2017 created by the Kellytoy company.
What makes Squishmallows special?
In addition to their special marshmallow-like texture and filling, , each one has it's own unique name and personality complete with a "Bio" and is sure to provide warm cuddly fun!
How can you tell if your Squishmallow is rare?
Squishmallows released a six-tier Rarity Scale on the tags to denote specific limited edition Squishmallows. Any Squishmallow with a rarity label has a maximum number of units that will ever be manufactured of them before their design is retired permanently.
How valuable are rare Squishmallows?
In addition to understanding the Rarity Scale, keep in mind that original price, item condition, item collectibility, item amount, and item resale value can also be impacted by additional factors such as the amount of inventory for sale and other special features and colors on any Squishmallow released.
Are there customer reviews or testimonials available regarding quality and value?
Yes! Customer reviews and testimonials are available regarding the quality and value of these items. You can find them by clicking through the buttons above and also on third-party review sites. You can read reviews, check the average rating value, and see which favorites reviewers recommend. And once in a while you get to see a cute fan video!
Wake Up! It's Snack Time!
Why should you add Snorlax Squishmallow to your collection?
Apart from being a huge conversation starter, it's also a perfect stress-reliever during those long, tiring days. Furthermore, Snorlax Squishmallow is guaranteed to be your new bff who will stick with you through thick and thin.
So, what are you waiting for? Show off your love for Pokémon and purchase your very own super soft Snorlax Squishmallow today! It's time to start your Pokémon journey - everyone has a favorite Pokémon!
Use the button below the big Snorlax Squishmallow above to get more information, current pricing, and delivery options!
And don't forget to check out our articles below for more ultra collectible cuddly friends!
Much love to you and yours!
😀
Before you leave, please
subscribe!
You will be the first to see reviews and recommendations on our newest favorites and FeedbackFinds!
You Might Also Enjoy These Squishmallow Collections and More:
See some more of our Squishmallow Collections here:
And here's an article I contributed to LucksList!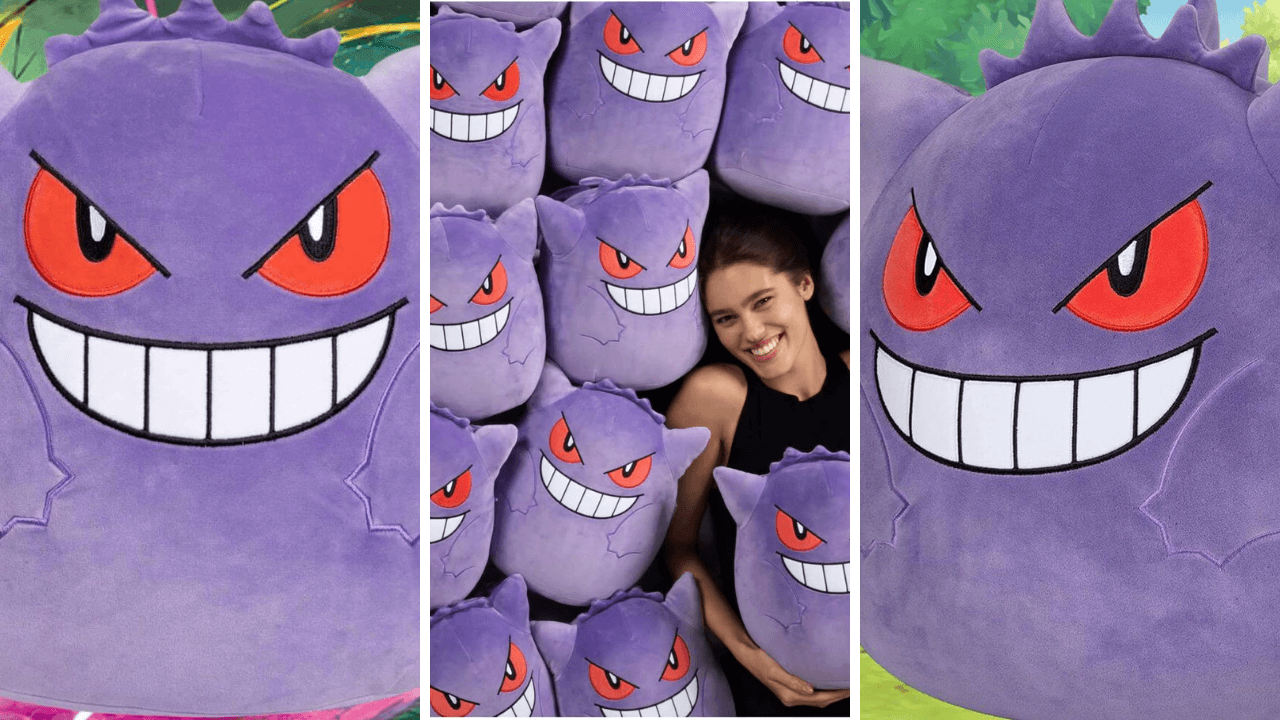 Would you love to do what I do? Blog and talk about your favorite products all day? Learn how ordinary people make money on the internet by watching this
free virtual workshop!
Why do you recommend Amazon to buy your Squishmallows?
When you purchase these super soft stuffed animals from an Amazon seller store website, you'll have the best opportunity for easy checkout and speedy delivery! You'll most likely save money on shipping and be able to track when your items are shipped. The cost to ship may be fully covered by Amazon Prime for members regardless the package weight. You can also contact Amazon support by phone or chat. They will accept returns and address concerns if needed. Plus you'll save time and frustration with quick access to your favorites by shopping through your online browser on your device instead of trekking through the mall or specialty business, including drugstores like Walgreens, and ads where you can't confirm availability without visiting in store. When clicking through to get more product information, you will also see related and additional suggested products on the same page link. Inventory and item stock will vary by sites that sell privately. It's also a great opportunity to search all kinds of categories, apply filters, confirm details, view satisfied customer comment