Squishmallows, along with the Pokémon company, has just released a brand new and long-awaited Pokémon Squad! The first release includes 2 fan favorites with plans for the Squad to grow quickly in 2023!
Everyone's favorite Electric-type Pokémon is joining the Squishmallows Squad, Pikachu!
Pikachu is joined by the infamous, yet beloved, Gengar - a ghost and poison-type Pokémon!
Are you ready to join the team and start your Pokémon Squishmallows collection? We've rounded up these two Pokémon Squishmallows available for you to take home today - so get ready to snuggle with your new squad!
How We Choose Our Favorites
Our Squishmallow team was beyond excited to personally approve these two special Pokémon Squishmallow members as must-have fan favorites!
The new Pokémon Squad will bring you the unsurpassed comfort and joy you've come to expect! All Pokemon Squishmallows are the perfect combination of cute, cuddly, and fun!
Whether you're a fan or collector, these popular plush toys are sure to bring a smile to your face. With high-quality materials and an irresistibly marshmallowy-like texture filling, they make great companions for anyone looking for a hug.
Undeniably huggable, lovable, and sweet - why miss out on the Squishmallow experience? Get your hands on one today and let the joy of Squishmallows envelope you!
Stay Alert! Just released Squishmallows begin to go out of stock quickly, so if you absolutely can't live without one of these cuties, grab one as soon as you see it! If you can't find the one you're looking for, visit the Squishmallow Store and do a Pokemon Squishmallow brand search on Amazon.
We're super excited to be a part of sharing this brand-new squad, and we will be sure to update our squad information as new Squishmallow Pokemon company members are released.
*️⃣
As an affiliate and associate of Amazon and other products, we do earn from certain qualifying purchases.
You can
read more about us here.
Our Top FeedbackFinds
Everyone's favorite Electric-type Pokémon!
Shop This Product!
Why It's A Winner
This Squishmallow is simply electrifying!
With the most recognizable Pokémon of all, Pikachu, as the star of the show, this collectible plush is available in two sizes and is sure to bring a spark of joy and energy into your home.
Not only will this cuddly creature look great among your other Squishmallows, but its iconic design is the perfect way for any Pokemon fan to show their love for their favorite franchise.
Get ready to be zapped - buy this Pikachu Squishmallow today!
Know A Little Bit More
Get ready to cuddle up with your new best friend - the Pikachu Squishmallow!
This cute and cuddly little creature is sure to bring a smile to your face with its bright yellow fur, lightning bolt tail, and rosy red cheeks.
Plus, you'll be electrified by the amount of fun and mischief you two can get up to. Be prepared for all kinds of adventures when you take this little buddy home!
---
The Infamous, Yet Beloved, Ghost and Poison-Type Pokémon!
Shop This Product!
Why It's A Winner
Get your hands on one of these menacing yet lovable Gengar Squishmallows!
The perfect addition to any Pokémon fan's collection, this devilishly delightful Squishmallow is soft and cuddly, making it the perfect huggable companion.
Right now, it's in available in 3 sizes including the super large and cuddly 20"!
Not to mention, with its strange but fascinating brand of mischievousness, there's no telling what kind of trouble you can get into with it!
So don't wait - grab your Gengar Squishmallow today and start your own mischief-making adventures!
Know A Little Bit More
Who wouldn't want to take a stroll through the dark forest with Gengar, the spooky, smiley Squishmallow?
A cuddly and charming companion, this round-bodied Pokémon is the perfect addition to any collection.
With its two large pointed ears, short spikes lining its back, and friendly claws outstretched just waiting for a hug, Gengar has even been known to levitate - making it an ideal playmate anywhere you go!
---
Pokémon Squishmallow FAQs
We've compiled a list of the most frequently asked questions about Squishmallows!
It's possible you are new to the world of Squishmallows - almost impossible, but it could happen!
Read on for lots of fun info, and if you're on the fence about your purchase, this information might help you decide!
What is a Pokémon?
A Pokémon is a fictional creature in the Pokémon video game series. Pokémon are creatures of all shapes and sizes who live in the wild or alongside humans. Each Pokémon has unique abilities and powers. Players of the game, known as Pokémon Trainers, capture, battle, and train Pokémon in order to become the strongest Pokémon Trainer.
Are Pokemon Squishmallows really new?
Yes, the first Pokémon Squad Squishmallows were released in stores in January 2023. Pokemon Squishmallows are a new line of plush toys that feature characters from the famous Pokémon franchise. These soft and cuddly toys are made with super-soft marshmallow-like texture and are perfect for snuggling up with and collecting. They come in a variety of sizes and styles and make a great gift for any Pokémon fan.
Will there be more Pokémon Squishmallows?
Yes! A rollout of more Pokemon Squishmallow characters is expected to occur throughout 2023 - and we're guessing the fun will continue for years to come! You can check out the Squishmallow fandom site that has "unofficial" information on what's in the works!
What age ranges like Squishmallows?
Squishmallows have become a beloved toy among all age groups. Young kids, ages 3-10 adore them because they are made from soft spandex polyester stuffing and are super soft and comforting. Adults also adore Squishmallows due to their undeniable cuteness – they make a unique gift to show your appreciation on any occasion! With an endless number of characters to choose from, everyone is sure to find something they connect with!
Are Squishmallows safe for small children?
For very young Squishmallow lovers, always opt for ones without small adornments and other decorative pieces that could cause choking or other hazard. Double-check the Squishmallow tag for age suggestions. Most will say they are safe from ages zero and up, some will suggest 3+.
What materials are used to make Squishmallows?
Squishmallows are made of a marshmallow-like material and packed with an ultra soft stuffing crafted from 100% recycled polyester fibers. This special combination gives them their distinctive, cuddly texture - one that's both cozy and squishy to the touch!
Can you put Squishmallows in the washer? Or in the dryer?
For best results and long-lasting cuddliness, don't put a Squishmallow in a machine washer or submerge it in water. The best way to clean these cutest plush toys is by spot cleaning with a damp cloth. For longest life, do not put your Squishmallow in the dryer. It's best to let it air dry.
That said, life is crazy and Squishmallows are well-loved and constantly squished by kids of all ages who really do take them everywhere! If necessary, machine wash with mild detergent, and tumble dry low. I'm a parent, so I get it! But please hand wash and air dry those with delicate parts and pieces or other special appliques, fuzzy materials, accessories, and ornaments.
Who was the very first Squishmallow?
The short answer is Cameron (Cam) the Calico Cat in 2017! To read more details, read our article all about Cam and the beginning of these squish friends!
When Did the Squishmallow Craze Begin?
Everybody wants to know "when did the first Squishmallows come out?" The first-ever Squishmallow, Cameron the Calico Cat, made his debut in 2017 created by the Kellytoy company. In addition to his cute name and delightful personality, this first critter had seven friends to join him on his squishy journey! With their super soft filling and a wide range of characters, it was only natural that the Squishmallow craze took off!
What makes Squishmallows special?
In addition to their special marshmallow-like texture and filling, Squishmallows are squishy toys that come in just the right size for any occasion. Plus, each one has it's own unique name and personality complete with a "Bio" and is sure to provide warm cuddly fun! These huggable plushies continue to win hearts with their irresistibly soft cuddles and sweet faces - let's see you try to collect just one!
Why did Squishmallows become even more popular during the pandemic?
These soft and huggable stuffed animals had a slow start but went on to become super fan favorites during the pandemic. The credit for the upward trend goes to the Tiktok Gen Z fans who had to stay at home in 2020. It was a true social media phenomenon! They began to share fun pics and videos of popular items in their growing collections.
Who else was In the original Squishmallows Squad?
Squishmallow Squads have become "official" collections of similarly-themed characters. There were eight original Squishmallows brand characters in the original Squishmallows squad available at Walgreens.
How Many Cams Are There?
Oh my gosh, a gazillion? Well, there are sizes from 2" to 16" so far, but we can imagine we'll see more of him! He's also been seen in a Santa hat, a giraffe costume, winking, and wearing headphones! At his 5th anniversary, he sported one tie-dye ear! He's also been seen as a backpack, a Hug Mee, a Stackable, and a Cuddler.
Is Squishville the same as Squishmallow?
Squishville is the newest addition to Squishmallows! It doesn't just boast unbelievably soft characters. Its one-of-a-kind playsets are made entirely of plush material! And they are perfectly sized. Each mini plush measures two inches tall. These are also the first play sets crafted only from cozy, plush materials!
How can you tell if your Squishmallow is rare?
This essential information is coming straight from the Squishmallow Fandom site! "On April 19, 2022, Squishmallows revealed a new six tier Rarity Scale that would start appearing on tags to denote specific limited edition Squishmallows. Any Squishmallow with a rarity label has a maximum number of units that will ever be manufactured of them before their design is retired permanently."
What is the Rarity Scale?
Read all about the Rarity Scale and these 6 Tiers through the link above. The absolute rarest Squishmallows are part of the Founder's Redemption Card hidden in Squishmallows Trading Card Packs.
How valuable are rare Squishmallows?
In addition to understanding the Rarity Scale, keep in mind that original price, collectibility, and resale value can also be impacted by additional factors such as the amount of inventory for sale and other special features and colors on any Squishmallow released.
Where can you buy Squishmallows?
Squishmallows can be purchased from a variety of online retailers, as well as from many large retail stores. You can find Squishmallows in stores like Walmart, Target, and Kohl's. Additionally, Squishmallows can also be found on Amazon, eBay, and other retailers. Pokemon Squishies can also be purchased at the Pokémon Center. You can buy Pikachu and Gengar above and a the Pokemon Center online store.
Let The Games Begin!
Great Pokemon news for fans! The new Pokémon Squishmallows are here and it's time to get ready for a whole new level of adventure.
Start your own Pokémon squad today and join the millions of other trainers out there - the possibilities are endless!
With this fun, cuddly little team, you can explore the world of Pokemon with newfound energy and enthusiasm. So what are you waiting for? Get ready to Squishmallow your way to victory!
Use the buttons below each Pokémon Squishmallow to get more information, current pricing, and delivery options on these highly collectible squishies!
And don't forget to check out our articles below or visit the Squishmallow Store and Pokemon Squishmallow Search for more cuddly friends!
Snap them up quickly!
😀
Before you leave, please
subscribe!
You will be the first to see reviews and recommendations on our newest favorites and FeedbackFinds!
You Might Also Enjoy These Squishmallow Collections:
Here's a fun article I wrote on LucksList.com!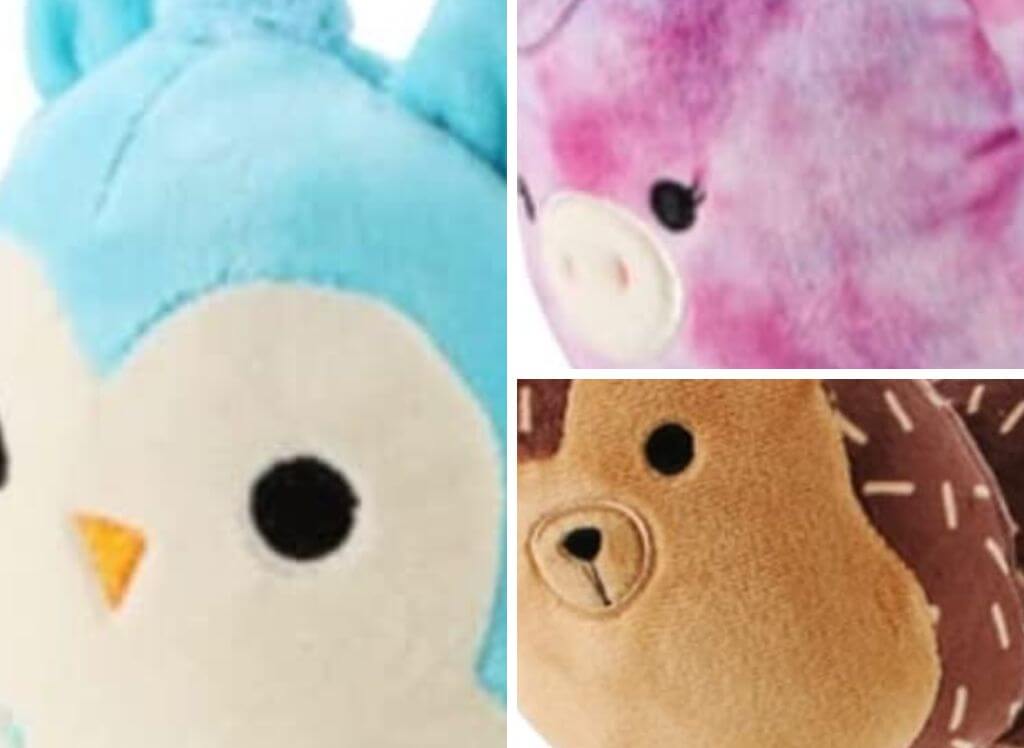 Would you love to do what I do? Blog and talk about your favorite products all day? Learn how ordinary people make money on the internet by watching this
free virtual workshop!
Why do you recommend Amazon to buy your Squishmallows?
When you purchase these stuffed animals from an Amazon seller store website, you'll have the best opportunity for easy checkout and speedy delivery! You'll most likely save money on shipping and be able to track when your items are shipped. The cost to ship may be fully covered by Amazon Prime for members regardless the package weight. You can also contact Amazon support by phone or chat. They will accept returns and address concerns if needed. Plus you'll save time and frustration by shopping through your online browser on your device instead of trekking through the mall or specialty business, including drugstores like Walgreens, and ads where you can't confirm availability without visiting the store. Inventory and item stock will vary by sites that sell privately. It's also a great opportunity to search all kinds of categories, apply filters, confirm details, and view satisfied customer comments and videos for the perfect match based on your interests and preferences!