Who says you can't celebrate Cinco de Mayo with an adorable Squishmallow? We've rounded up the cutest and cuddliest of these festive friends, guaranteeing you'll find one you won't be able to resist adding to your squad.
From colorful outfits to spinning tops, get ready for the ultimate Cinco de Mayo cuddle session!
How We Choose Our Favorites
The Squishmallow team has gone the extra mile to select these extraordinary Squishmallows from the Mexico and Fiesta Squads - you won't be disappointed! There's sure to be a new favorite in store for everyone.
Get ready to celebrate the 5th of May with a Squishmallow! These cuddly characters come in various sizes and are all dressed up for any Mexican Fiesta.
Each Squishmallow is designed for fun and perfect for diehard fans and collectors. Add some cheer to your Cinco de Mayo celebrations with these adorable companions!
After rigorous examination, these Squishmallows have been deemed exceptionally adorable and huggable!
We guarantee that each Squishmallow we select is an authentic Official Kellytoy plush. All of these cuddly creatures are produced with the utmost quality and tenderness, as if they were filled with marshmallows!
No matter which of these lovable characters you receive, your decision is sure to be a winner!
Your carefully chosen present is sure to be a hit - they will love it!
Be Prepared: As the fiesta season nears, many popular Squishmallows will begin to disappear from store shelves. (Oh no!) Don't lose sleep over it; we have found even more endearing Squishmallows in the articles listed below and in the Squishmallow Store!
Plus you can add some fun to your fiestas with these Squishmallow Mexican Foodie Friends cooking up in one of my other articles!
Our Top FeedbackFinds
Enrique is a piñata striped in the colors of the Mexican flag! Enrique loves tinkering with building blocks, creating entire worlds of his own imagination. When he grows up, his dream is to one day build his own home - and a special room for all those blocks! This Cinco de Mayo Squishmallow is inspired by Enrique's creativity and ambition. So why not add it to your collection? It's the perfect way to celebrate a unique holiday, as well as show love and support for your little builder. Plus, it's pretty adorable!
Shop This Product!
Originally from the Farm Squad and Ready to Party! Meet Jason, the hard-working donkey Squishmallow who loves to look toward the horizon and dream of driving his truck up through the majestic mountains. He can often be found studying late into the night, determined to make his dreams a reality - but not before he gets his much-needed coffee first! Make Cinco de Mayo extra special this year with a collectible Jason Squishmallow that's as dedicated to achieving their dreams as you are - a perfect reminder to never give up and keep looking for new adventures. Plus, if nothing else, it'll make sure you never have to wake up without your morning coffee again!
Shop This Product!
Introducing Gabriela the Mariachi Girl! This collectible Cinco de Mayo Squishmallow is dressed in all the traditional garb. She and her trusty sidekick Esteban are ready to bring you a fiesta of musical notes! Check out Esteban below and add this festive duo to your collection for a celebration of music and culture year-round—now that's something worth shouting about!
Shop This Product!
Esteban the Mariachi Player is a Squishmallow that was only sold in Mexico! He joins Gabriela to bring you authentic music from south of the border. Standing at 7" tall, this collectible Cinco de Mayo Squishmallow is ready to liven up your celebrations with some spicy mariachi tunes. Plus, what better way to decorate for your fiesta than with a plushy friend singing along? So get hold of Esteban and his musical companion before they serenade their way out of your reach. ¡Olé!
Shop This Product!
Meet Raul the Mexican Boy! Originally released in Mexico, this collectible Cinco de Mayo Squishmallow is a sight to behold! He loves nothing more than listening and watching Gabriela and Esteban when they perform - so why not bring him home to add a little flair and fun to your celebration? Perfect for any Squishmallow fan or collector looking for something unique, this limited edition plushie will make you stand out from the crowd. Don't miss out on your chance to own a piece of history - grab your Raul the Mexican Boy Squishmallow today!
Shop This Product!
She's added a bow with the Mexican flag colors for the celebrations! Meet Maritza, the cactus Squishmallow who loves to play soccer. A three-time championship winner, she's the goalie everyone dreams of having on their team! Don't let her spiky exterior fool you; she's a gentle giant off the field and loves to kick a ball around. Make this vibrant cactus your very own collectible Cinco de Mayo Squishmallow and guarantee yourself a victory!
Shop This Product!
Xolo is short for Xoloitzcuintli - now that's a mouthful! This grey and pink xolo is a Mexican dog breed. Pawel the Xolo is a one-of-a-kind Squishmallow that's sure to bring unique flair to any collection! He exudes calm, loyalty, and alertness, making him an excellent pet or guard dog. Despite being larger than his Chihuahua friends, he still thrives on being around them and other Squishmallows. As a Mexican exclusive, he's the perfect addition to your Cinco de Mayo celebrations. So don't miss out - get your own friendly Pawel today!
Shop This Product!
Salvador The Trompo 7"
He's a spinning top ready to party! Celebrate Cinco de Mayo with Salvador The Trompo, the ultimate Squishmallow for speed and fun! Salvador loves to spin, so get ready for a wild ride when you play with him. Plus, his festive maracas will bring the party music no matter where you go. He may be small in size, but don't let that fool you; he packs a punch of energy and excitement. Get your hands on Salvador today so you can join him in spinning around the room!
Shop This Product!
You guessed it! Jorge is best friends with Salvador! Jorge and Salvador may just be the best of friends, but they're also the most adventurous pair around town! Wherever they go, it's sure to be an exciting journey. They'll keep you and your family entertained all day long, plus they make the perfect addition to any Cinco de Mayo party with their festive outfits! So why not get your own collectible Cinco de Mayo Squishmallow? After all, what better way to join in on the fun than with a cuddly companion who loves Mexican culture?
Shop This Product!
Cinco de Mayo Squishmallows FAQs
We've compiled a list of the most frequently asked questions about these super unique Squishmallows! It's possible you are new to the world of Squishmallows - almost impossible, but it could happen! Read on for lots of fun info, reviews and if you're on the fence about your purchase, this information might help you decide!
What is a Cinco de Mayo Squishmallow?
A Cinco de Mayo Squishmallow is a special edition plush toy created in celebration of Mexico's annual Cinco de Mayo holiday. This collectible features bright and festive colors and designs, ideal for both decoration and cuddling.
What is Cinco de Mayo?
Cinco de Mayo, or the fifth of May, is a holiday celebrated in Mexico and among people in many other communities with Mexican heritage. It commemorates the Mexican Army's unlikely victory over the French Empire at the Battle of Puebla on May 5th, 1862.
What is a Mariachi?
A Mariachi is a type of traditional Mexican music ensemble. It usually consists of five or more musicians playing guitars, violins, trumpets and other string instruments.
What is a Pinata?
A Piñata is a colorful cardboard or clay container filled with treats and hung from the ceiling. It is a popular traditional game originating in Mexico, which involves hitting or breaking open the piñata to retrieve the hidden candy or toys inside.
What is a Xolo?
A Xolo is a Mexican hairless dog breed that originated 3500 years ago. This breed has short wiry coats and is loyal and affectionate, making it an ideal companion for those seeking a unique pet.
What is a spinning top?
A spinning top is a toy that can be spun on a flat surface. It consists of a pointed tip with a cylindrical body, and when it is spun, it performs various kinds of rotational movements.
What age ranges like Squishmallows?
Squishmallows have become a beloved toy among children of all age groups, including adults. They are made from soft spandex polyester stuffing and make a unique gift to show your appreciation on any occasion!
Are Squishmallows safe for small children?
Yes. For very young Squishmallow lovers, always opt for ones without small adornments and other decorative pieces that could cause choking or other hazard. Double-check the Squishmallow tag for age suggestions. Most will say they are safe from ages zero and up.
What materials are used to make Squishmallows?
Squishmallows are made of a marshmallow-like material and packed with an ultra soft stuffing crafted from 100% recycled polyester fibers. This special combination gives them their distinctive, cuddly texture-- one that's both cozy and squishy to the touch!
Can you put Squishmallows in the washer? Or in the dryer?
For best results and long-lasting cuddliness, spot clean with a damp cloth. For longest life, do not put your Squishmallow in the dryer. It's best to let it air dry.
If necessary, machine wash with mild detergent, and tumble dry low. But please hand wash and air dry those with delicate parts and pieces or other special appliques, fuzzy materials, accessories, and ornaments.
When Did the Squishmallow Craze Begin?
The first-ever Squishmallows made their debut in 2017 created by the Kellytoy company.
What makes Squishmallows special?
In addition to their special marshmallow-like texture and filling, , each one has it's own unique name and personality complete with a "Bio" and is sure to provide warm cuddly fun!
How can you tell if your Squishmallow is rare?
Squishmallows released a six-tier Rarity Scale on the tags to denote specific limited edition Squishmallows. Any Squishmallow with a rarity label has a maximum number of units that will ever be manufactured of them before their design is retired permanently.
How valuable are rare Squishmallows?
In addition to understanding the Rarity Scale, keep in mind that original price, item condition, item collectibility, item amount, and item resale value can also be impacted by additional factors such as the amount of inventory for sale and other special features and colors on any Squishmallow released.
Are there customer reviews or testimonials available regarding quality and value?
Yes! Customer reviews and testimonials are available regarding the quality and value of these items. You can find them by clicking through the buttons above and also on third-party review sites. You can read reviews, check the average rating value, and see which favorites reviewers recommend. And once in a while you get to see a cute fan video!
Who's Celebrating at Your House?
Now that you know which Squishmallow will be celebrating Cinco de Mayo at your house, it's time to plan the festivities and let the games begin!
Get ready for a day full of fun and laughter with your favorite Squishmallow friends. All you need is good food, good music, and your special Squishmallow friend to make this the best experience ever!
¡Viva La Fiesta! ¡Feliz Cinco de Mayo!
Use the buttons below each Cinco de Mayo Squishmallow to get more information, current pricing, delivery, and shipping options!
And don't forget to check out our articles below or shop the Squishmallow Store to see more reviews for cuddly friends!
Happy Cinco de Mayo, but don't party too hard!
😀
Before you leave, please
subscribe!
You will be the first to see reviews and recommendations on our newest favorites and FeedbackFinds!
You Might Also Enjoy These Squishmallow Collections:
Better yet, check out our full collection of Squishmallow articles!
And here's an article I contributed to LucksList!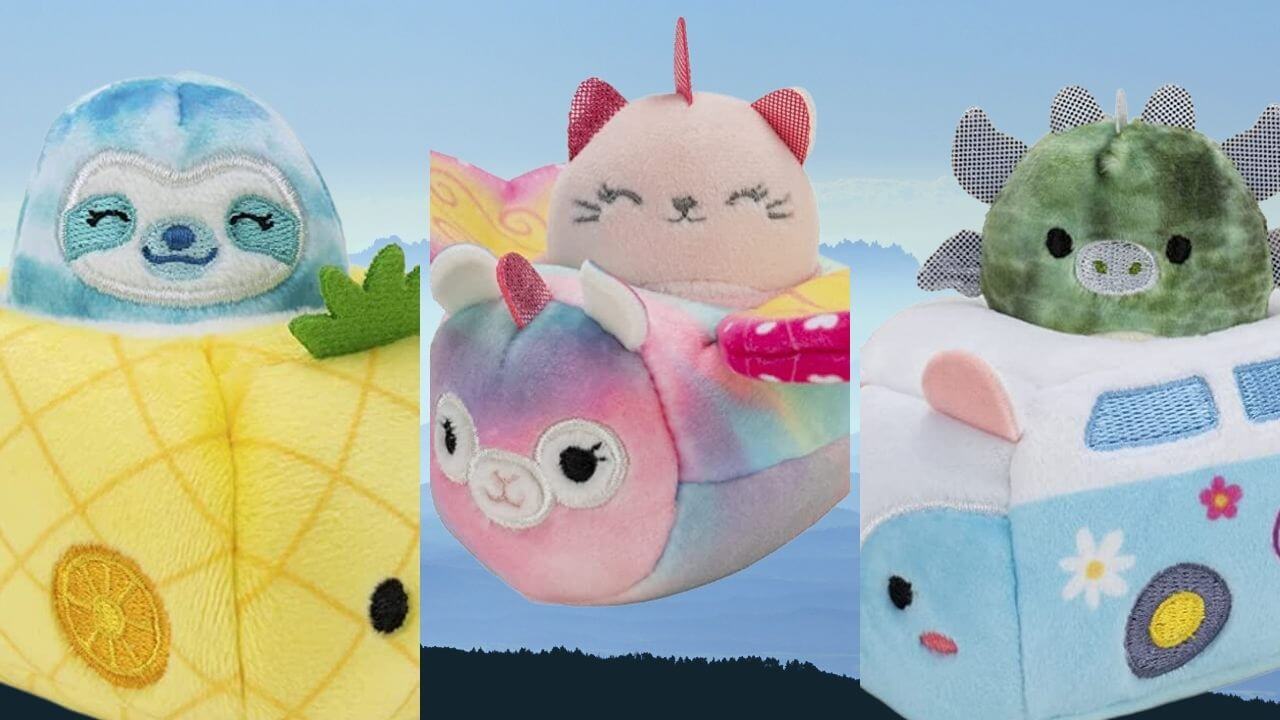 *️⃣
As an affiliate and associate of Amazon and other products, we do earn from certain qualifying purchases.
You can
read more about us here.
Would you love to do what I do? Blog and talk about your favorite products all day? Learn how ordinary people make money on the internet by watching this
free virtual workshop!
Why do you recommend Amazon to buy your Squishmallows?
When you purchase these stuffed animals from an Amazon seller store website listing, you'll have the best opportunity for easy checkout and speedy delivery! You'll most likely save money on shipping and be able to track when your items are shipped. The cost to ship may be fully covered by Amazon Prime for members regardless the package weight. You can also contact the seller through Amazon support by phone or chat. They will accept returns and address concerns if needed. Plus you'll save time and frustration with quick access to your favorites by shopping through your online browser on your device instead of trekking through the mall or specialty business, including drugstores like Walgreens, and ads where you can't confirm availability without visiting the store. When clicking through to a full seller listing to get more product information, you will also see related and additional suggested products on the same page link. Inventory and item stock will vary by the seller sites that sell privately. It's also a great opportunity to search all kinds of categories, apply filters, confirm details, view satisfied customer comments, and videos for the perfect match based on your interests and preferences!