From their perfectly round faces to their super soft marshmallow-like texture, Squishmallows plush toys have become a huge hit with kids and adults alike.
But do you know who was the very first one ever made? And what year were Squishmallows made?
Meet Cam the Cat, who started it all! He's truly a unique creature – as courageous as he is lovable – and his story is sure to capture your heart.
Read on to learn all about the oldest Squishmallow and how he's changed so many lives since day one!
When Did the Squishmallow Craze Begin?
Everybody wants to know "when did the first Squishmallows come out?" The first-ever Squishmallow, Cameron the Calico Cat, made his debut in 2017 created by the Kellytoy company. In addition to his cute name and delightful personality, this first critter had seven friends to join him on his squishy journey!
These soft and huggable stuffed animals had a slow start, but went on to become super fan favorites during the pandemic. The credit for the upward trend goes to the Tiktok Gen Z fans who had to stay at home in 2020. It was a true social media phenomenon! They began to share fun pics and videos of popular items in their growing collections. With their super soft filling and soft fabric and range of characters, it was only natural for everyone to be drawn into the Squishmallow craze!
Since then, these huggable plushies have been winning hearts with their irresistibly soft cuddles and sweet faces - it's no wonder so many people can't resist collecting them all! For those of us old enough to remember, it's reminiscent of the Beanie Baby Craze! We think you'll absolutely love starting your own Squishmallow collection!
Where Was The First Squishmallow Sold?
Squishmallows are the perfect plush toy for anyone looking for something adorable and cuddly to cuddle up with. Since they first made their debut in 2017 at Walgreens, they have become increasingly popular. Co-founder and co-president of Kellytoy, Jonathan Kelly, stated that these plushies originally came in three sizes: 8 inches, 12 inches, and 16 inches.
Today, Squishmallow plush toys can be found in almost every major retail chain store in the US and along with other third party sellers. They have won the hearts of many with their delightful faces and pleasant personalities with over 1000 uniquely named characters to choose from. Whether you like Autumn black cat, dogs, fruit, dinosaurs, or a pink purple cow squishmallow, this is one toy you just can't go wrong with!
Tell Me More About Cam the Cat
For any Squishmallow collector, Cam the Cat will always have a special place in their hearts. Many collectors remember how they felt opening their first-ever package and discovering what might possibly be their favorite Squishmallow of all time. Cameron is the perfect kitty squishmallow name! After all, it was Cam the Cat that started it all!
With his adventure seeking personality spirit and Calico cat markings, he's one of the cutest plush toys around and the perfect addition to anyone's collection of Squishmallows. As the years have gone by, more and more Squishmallows join the craze, but nothing quite compares to that feeling of finding your very own Cam the Cat!
Official Cam Facts!
Cam the Cat, or Cameron as he's known to his Squishmallow friends, has been a Squishmallows fan favorite ever since he was first released. Cam has the honor of being listed as the first Squishmallow ever made by Collector Number with an official Squishmallows launched date of March 1, 2017, and he proudly serves as the main mascot of the beloved brand.
Although he may seem like a shy little cat, he loves to curl up with kids for hugs and cuddles while they explore their own wild and wonderful imaginations.
Cam is the cutest calico cat! He's so cuddly you just want to pick him up and give him a hug. He is easily recognizable with his cream body and contrasting patches of brown and black that draw your eye. He has one brown patch over his right ear and two black patches, one on his left ear and the other on his lower left body, all surrounded by soft fur.
Cam's adorable little face with closed eyes, black whiskers and happy pink mouth makes it pretty hard to resist giving him lots of love. Cam is a one-of-a-kind feline that brightens up any room - who could resist such an amazing little fluff ball?
What A Personality!
Cameron loves taking on new challenges and he is always up for an adventure. Whether it's jumping in and out of boxes or building forts with his friends Hoot and Wendy, Cameron loves to stay active and explore! He even brought along his skateboard the last time the crew headed for the beach.
On December 18th, he has his eye on something new - sailing! This spunky feline friend loves learning new hobbies so if you're looking for an adventurous cat companion, then Cameron is your guy!
How Many Cams Are There?
Oh my gosh, a gazillion? Well, there are sizes from 2" to 16" so far, but we can imagine we'll see more of him!
He's also been seen in a Santa hat, a giraffe costume, winking, and wearing headphones! At his 5th anniversary, he sported one tie-dye ear! He's also been seen as a backpack, a Hug Mee, a Stackable, and a Cuddler.
We get the idea he loves his role as an ambassador for all things Squishmallow!
People often ask is Cam the Cat Squishmallow rare? That's a tough one to answer! There are so many editions of Cam that some will be considered rare, while others were produced and released in higher quantities.
Even those in greater numbers can be considered rare based on the time since release dates. So, it's pretty much an inexact science! You may search additional references that can assist you in estimating value for a particular Squishmallow.
Who Else Was In The Original Squishmallows Squad?
Squishmallow Squads have become "official" collections of similarly-themed characters. There were eight original Squishmallows brand characters in the original Squishmallows squad available at Walgreens. They were Cameron the Cat (we know that!,) Wendy the Frog, Piper and Puff the Penguins, Hans the Hedgehog, Hoot and Holly the owls, and Fifi the Fox.
You can just imagine the original cuteness! And new friends every day!
It's Never Too Late to Join the Craze!
The very first Squishmallow and friends were born of love and the Kellytoy company has continued to show us that they truly care about their consumers by creating certain features that are new, innovative, and adorable plush toys! If you're looking for a way to get your hands on the newest Squishmallows, exclusive Squishmallows, or even the rarest Squishmallows, be sure to check out the articles on our website – we have all the latest and greatest right here waiting for you! From Squishville plush to a sweet snow leopard to a black cat to a Della Duck Squishmallow and many more, the Kelly Toys Company has you covered!
You might want to start here and see if you can find the super cute Cam!
Let's face it -  everyone needs a sweet, squishy, comfy, cuddly hug!
Wishing you crazy hugs!
More Squishmallow Collections:
Here's another great article we contributed to LucksList.com!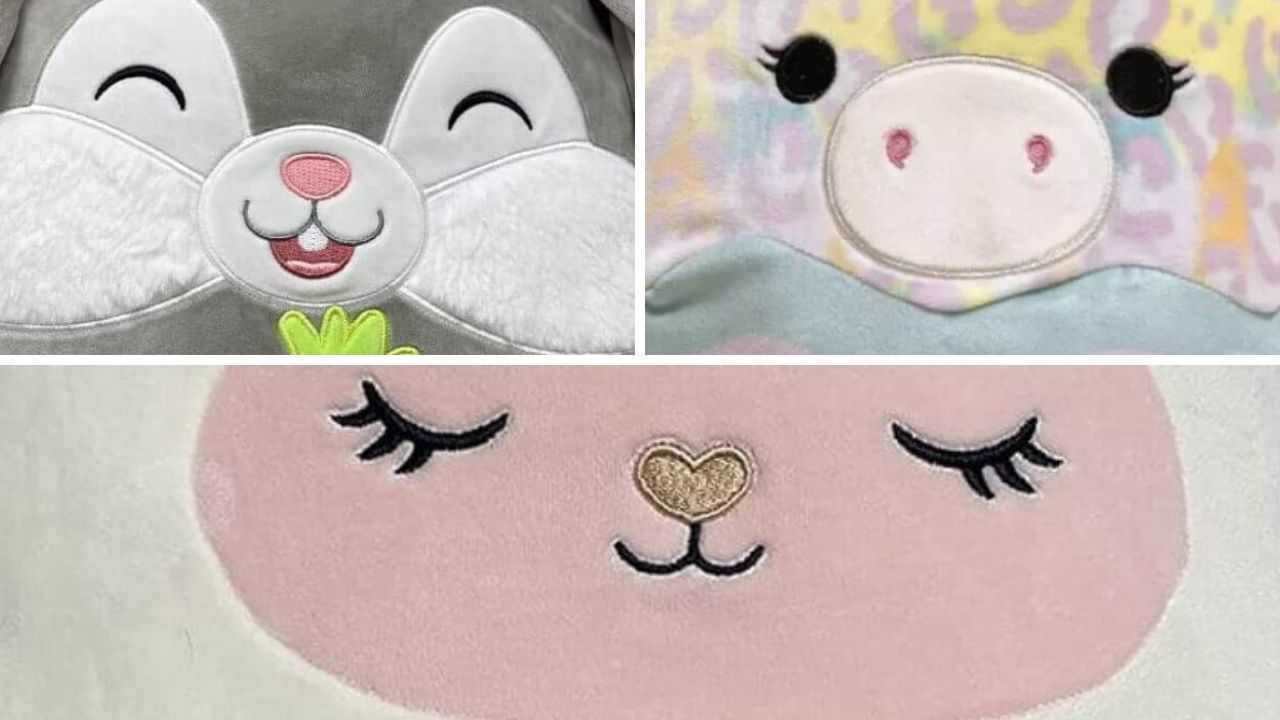 *️⃣
As an affiliate and associate of Amazon and other products, we do earn from certain qualifying purchases.
You can
read more about us here.
Would you love to do what I do? Blog and talk about your favorite products all day? Learn how ordinary people make money on the internet by watching this
free virtual workshop!