Are you looking for the perfect way to express your love and affection?
Hugmallows are the ultimate way to show someone you care.
Whether you're sending a hug to a friend or family member, expressing your love to a special someone, or just letting someone know you're thinking of them, Hugmallows are the perfect way to do it.
We've rounded up our top three Valentine Hugmallows for you to choose from. Each one is unique and special in its own way, and all are sure to bring a smile to anyone's face.
Hugmallows are extra special Squishmallows with soft side openings that let you reach through and give your Squishy the biggest possible hug! It doesn't get any better than that!
How We Choose Our Favorites
Are you looking for the perfect Hugmallows to keep you and all your friends and family warm and cozy on cold winter nights?
We consider a lot of factors when choosing our favorites! First, we always make sure that we are recommending only genuine Official Kellytoy company Squishmallows!
We also consider the feedback of customers just like you!
This means you're sure to get the cuddliest, squishiest love possible! All Squishmallows are made with high-quality materials and have the iconic stuffing with marshmallow-like texture!
The bottom line is that they must be both comfortable and durable.
The final test? Scoring on the cuteness scale!
As the holiday is approaching each year, the popular Squishmallows (basically all of them!) start to go in and out of stock quickly! If you find that your favorite isn't available, it's worth a look in the Squishmallow Store on Amazon.
You can also check out the amazing collections we've written about in our articles below! Some way or another, we're going to find you "the one!"
Now all you have to do is read all about these cuties and make your pick!
Our Top FeedbackFinds
Best for Skate Park Pros!
Shop This Product!
Why It's A Winner
Angelie Unicorn Hugmallow Valentine is the perfect gift for skate park pros! She's an adorable pink and white tie-dye unicorn with a bright red heart.
Her best friend, Xenia, loves to join her at the skate park and watch her incredible moves! Plus, Angelie is an impressive 22" tall, making her the perfect companion for a day at the skate park.
Know A Little Bit More
Angelie Valentine is a great way to show your support for your favorite skater. Her bright colors are sure to make her stand out from the crowd and her size will make her an instant hit.
With Angelie, your skater will be ready for any challenge in the park. And when she's off the board, she's the perfect cuddle buddy!
Grab up your own Angelie Unicorn Hugmallow Valentine today!
---
Best for Computer Robot Builders!
Shop This Product!
Why It's A Winner
Miles the Dragon Hugmallow Valentine is the perfect companion for computer robot builders!
This light teal tie-dye dragon with silvery claws, horns, wings, and a bright red heart is 22" tall, making him the perfect size for cuddles and hugs.
Miles loves to learn about the technology world around him and when he's not behind the screen, he enjoys building robots with his friends.
His dream is one day to become an engineer, so show your support with the Miles Dragon Hugmallow Valentine!
Know A Little Bit More
Miles is made with high-quality materials and is sure to last for years to come.
Plus, Miles is the perfect gift for tech-savvy kids and teens who want to learn more about robotics and engineering. He's sure to bring a smile to their face!
Order Miles the Dragon Hugmallow Valentine today and help him reach his dreams.
---
Shop This Product!
Why It's A Winner
Doreen Cheetah Hugmallow Valentine is the perfect plush toy for any drummers out there.
She loves to put on a show for her stuffed animals and her grandparents, and she's determined to start her own band.
She's white and light pink with darker pink cheetah spots and a bright red heart, and she's 22" tall. She's the perfect size for cuddling and playing with.
Know A Little Bit More
Doreen Cheetah Hugmallow Valentine is often listed as a "leopard" by mistake, but she's actually a cheetah.
She's made with high-quality materials and is sure to last for years to come.
Plus, she's a great gift for drummers, and will make any music lover happy. So why wait? Get your own Doreen Cheetah Hugmallow Valentine today!
---
Best for Sea Life Lovers and High Achievers!
Shop This Product!
Why It's A Winner
Santos Shark Hugmallow Valentine is the perfect Valentine's Day gift for the sealife lover in your life.
He's a cute and cuddly plush toy shark, with a unique tie-dye pattern of white, blue, and green.
He stands 20" tall and is sure to make a splash with your valentine. Plus, Santos the Shark is a calm character with ambition, so he's sure he'll find the shark of his dreams!
Know A Little Bit More
Santos is made with high-quality materials and is sure to last for years to come. It's the perfect size for cuddling and playing with, making it a great gift for any sea life fan.
Get your own Santos Shark Hugmallow Valentine today, and make your valentine's day extra special.
Hugmallow Squishmallow Valentine FAQs
We're excited to help you find the perfect Hugmallow Valentine to give as a sweet gift or to complement your collection!
We have compiled a comprehensive set of questions and answers regarding these adorable, plush friends so that you can make an informed decision on what better way to show someone how much they mean to you.
Here is all the information necessary for your selection process!
What Are Squishmallows?
Squishmallows Hugmallow plush toys are here to fill your hearts with love and affection for Valentines Day!
Since 2017, the loveable Squishmallow brand has grown into an international phenomenon. These sweeties offer comfort, support, and warmth as friends, couch companions, bedtime buddies, and travel teammates.
With more than 1,000 different Squishmallow characters to collect, fans and collectors of any age can aspire to make the largest collection ever or to just be like their favorite characters.
Each Squishmallow has its own unique name and storyline to add to all the fun.
How many Squishmallows are there?
As of January 2023, there are over 1000 Squishmallow characters!
This means there are approximately a gazillion Squishmallows to collect because each Squishmallow comes in different additions!
They can be made in special editions for holidays like Christmas, Valentine's Day, and Halloween.
You will also find new additions by year! Right now, we are sharing the new 2023 squad members, and next year we'll be sharing more 2024 editions of our favorite characters.
There are Spring squads, Sea Life Squads, Bug Squads, and so many more!
I'm still in search of a whale squishmallow in case you find one!!
What are Hugmallows?
Hugmallows are an extra special type of Squishmallow that have soft side openings that let you reach all the way through that super-squishy tummy to squeeze your cuddly buddy up in the biggest wrap around hug possible!
Hugmallows are made of the same marshmallow-like materials and stuffing that have made them so unique and popular!
Like all Squishmallow types, they come in a wide variety of characters, colors, and personalities!
I've been on the lookout for a Zozo Hugmee Squishmallow - let me know if you find one!
What are Squishmallow Hug Mees?
Squishmallow Hug Mees are a super cute category of Squishmallows that have 3D arms and legs that make them super soft, huggable plush toys.
They are made from a special marshmallow-like material that is designed to be both huggable and squeezable.
Squishmallow Hug Mees come in a variety of sizes, shapes, and colors, and are perfect for cuddling and playing. They are perfect for kids of all ages and make great gifts for any occasion.
What age range likes Squishmallows?
Squishmallows have become a beloved toy among all age groups. Young kids, aged between 3-10 especially love them as they are super soft and comforting, made from soft spandex polyester stuffing.
Squishmallow tags have a minimum age printed on them. Most tags seem to be printed as 3+, but you will want to watch for tags with 0+ for your youngest fans.
For the littlest Squishmallow fans, always opt for squishies without any small pieces that can be a choking hazard.
Adults absolutely adore Squishmallows due to their sheer cuteness – they make an ideal gift to show your appreciation on any special day!
With an endless number of characters to choose from, everyone is sure to find something they connect with! What more could you possibly ask for?
Is Squishville the same as Squishmallow?
Squishville is the newest addition to Squishmallows, and it doesn't just boast unbelievably soft characters!
You'll be amazed by its one-of-a-kind playsets made entirely of plush material!
And the characters are special sized, too - each perfect mini-plush measures two inches tall.
This marks a first in the toy industry. Never before have there been so many play sets crafted only from cozy, plush materials!
You won't be able to resist the bonus Squishville collection!
What materials are used to make Squishmallows?
Squishmallows are made of a marshmallow-like material and packed with an ultra-soft stuffing crafted from 100% recycled polyester fibers.
This special combination gives them their distinctive, cuddly texture-- one that's both cozy and squishy to the touch!
And it's never been confirmed, but it seems like they must have been topped with their own magical soft, cute, and cuddly dust!
Are there customer reviews or testimonials available regarding quality and value?
Yes, there are customer reviews and testimonials available regarding the quality and value of these items.
You can find them by clicking through the buttons above and also on third-party review sites.
Squishmallows get loads of positive feedback!
When Did the Squishmallow Craze Begin?
Everybody wants to know "when did the first Squishmallows come out?" The first-ever Squishmallow, Cameron the Calico Cat, made his debut in 2017 and was created by the Kellytoy company.
In addition to his cute name and delightful personality, this first critter had seven friends to join him on his squishy journey!
These soft and huggable stuffed animals had a slow start but went on to become super fan favorites during the pandemic. The credit for the upward trend goes to the Tiktok Gen Z fans who had to stay at home in 2020.
It was a true social media phenomenon! They began to share fun pics and videos of popular items in their growing collections.
With their super soft filling and soft fabric and range of characters, it was only natural for everyone to be drawn into the Squishmallow craze!
Since then, these huggable plushies have been winning hearts with their irresistibly soft cuddles and sweet faces - it's no wonder so many people can't resist collecting them all!
Can you put Squishmallows in the washer? Or in the dryer?
For best results and long-lasting cuddliness, don't put a Squishmallow in a machine washer or submerge it in water.
The best way to clean these cutest plush toys is by spot cleaning with a damp cloth. Do not put your Squishmallow in the dryer. It's best to let it air dry.
How can you tell if a Squishmallow is rare?
This essential information is coming straight from the Squishmallow Fandom site!
➡️ https://squishmallowsquad.fandom.com/wiki/Rarity_Scale
"On April 19, 2022, Squishmallows revealed a new six-tier Rarity Scale that would start appearing on tags to denote specific limited edition Squishmallows. Any Squishmallow with a rarity label has a maximum number of units that will ever be manufactured of them before their design is retired permanently."
Read all about the Rarity Scale and these 6 Tiers through the link above. The absolute rarest Squishmallows are part of the Founder's Redemption Card hidden in Squishmallows Trading Card Packs.
Keep in mind that price, collectibility, and resale value can also be impacted by additional factors such as the amount of inventory for sale, how many collectors are interested, and any special features and colors on the Squishmallow released.
Where can I buy Squishmallows?
Squishmallows are created in everyday and seasonal styles and are available through major, online, and specialty retailers such as Walgreens, Amazon, Five Below, Costco, Learning Express, and more!
Exclusives and limited edition Squishmallows can be found globally in just about every country.
The Squishmallow site suggests to "follow the #squishmallowsquad on their global adventures and use #sharemysquad for a chance to be featured!"
Time for a Hugfest!
If you're looking for a unique and meaningful way to show your love this holiday, grab up a super cute Hugmallow from the Valentine Squad! Show your undying love and affection with these cuddly and adorable plushies.
Hugmallows are the perfect way to make your Valentine's Day extra special and memorable. So don't miss out on this amazing opportunity and get ready to give the gift of love this Valentine's Day!
Use the buttons below each product to get more information, current pricing, and delivery options on the cuties you can't resist!
And don't forget to check out our articles below or visit the Squishmallow Store for more cuddly friends!
How Do I Love Thee?
😀
Before you leave, please
subscribe!
You will be the first to see reviews and recommendations on our newest favorites and FeedbackFinds!
You Might Also Enjoy These Squishmallow Collections:
And here's an article I contributed to LucksList!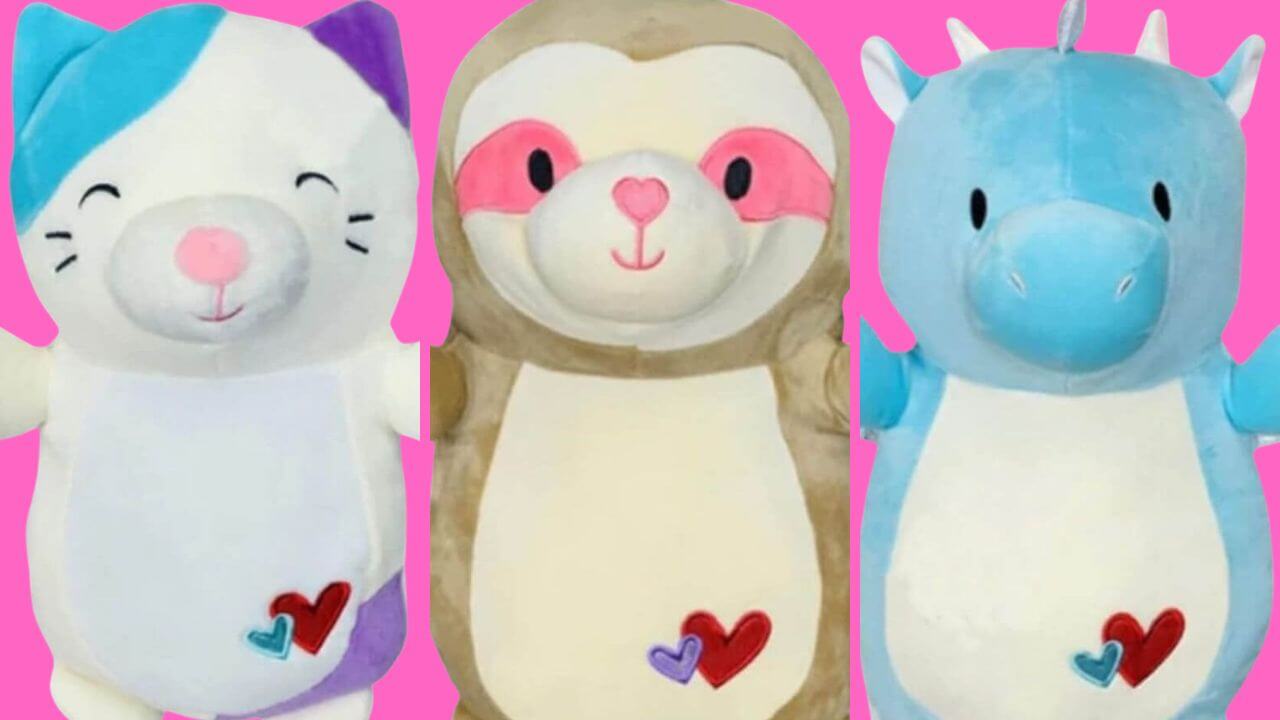 *️⃣
As an affiliate and associate of Amazon and other products, we do earn from certain qualifying purchases.
You can
read more about us here.
Would you love to do what I do? Blog and talk about your favorite products all day? Learn how ordinary people make money on the internet by watching this
free virtual workshop!
Why do you recommend Amazon links to buy your Squishmallows?
When you purchase these stuffed animals from an Amazon seller store website, you'll have the best opportunity for easy checkout and to ship by speedy delivery!
You'll most likely save money on shipping and be able to track when your items are shipped.
You can also contact Amazon support for customers by phone or chat. They will accept returns on items purchased and address an error or concern if needed.
Plus you'll save time and frustration by shopping through your online browser on your device instead of trekking through the mall or specialty stores, including drugstores like Walgreens where you can't confirm availability without visiting the store.
Inventory and item stock will vary by sites that sell privately.
It's also a great opportunity to search all kinds of categories, apply filters, confirm details, and view satisfied customer videos for the perfect match based on your interests and preferences!