Get ready to find the perfect squishy companion for your special Valentine!

Squishmallows are the perfect way to show your love! These ultra-soft, squishy plush toys come in a variety of adorable animals, including dogs, cats, and bears. They're perfect for cuddling, playing, and snuggling. Plus, they're made with high-quality materials, so they're sure to last.
With Squishmallows, you can show your loved one how much you care in a truly unique and special way. Each Squishmallow is made with love, and the adorable designs will make your Valentine smile. Plus, they're also perfect for any age and any occasion.
How We Choose The Best For You!
Our team of Squishmallow lovers (which includes ourselves and kids) has personally chosen each of these special 2023 Valentine Squad members as their favorites! Primarily because they are super cute!
Here's A Secret: There are even more cute squishies at the Amazon Squishmallow Store!
First, we make sure they are the Official Kellytoy Squishmallow plush. We take a look at product availability on Amazon, current pricing, shipping, and delivery time-frames to find the best Valentine gift options for you.
Official Squishmallows are all super cuddlers and huggers that make great gifts for any Valentine. They're all made with high-quality construction and a marshmallow-like, soft material.
So far, that's not going to help you decide!
They are all adorable and it's hard to choose. Which one will offer the best snuggly experience?
While it's going to be difficult, we can only offer so much advice. In the end, you're just going to have to flip a coin or draw straws!
We're hoping the information we've compiled for you will make it a little easier to find and purchase the perfect squishy Valentine!
Show how much you care with one of these 2023 Valentine Squishmallows!
Best 2023 Valentine Squad Pink Dog
Shop This Product!
Why It's A Winner
We love the Magnis Australian Shepard Dog 2023 Valentines Squad because it is the perfect addition to any Valentine's Day celebration. This adorable plush dog is sure to make your loved ones smile with its pink body and white fuzzy belly. Its two hearts on the tummy add a special touch, and its fluffy pink ears are sure to make your Valentine's Day extra special.
Know A Little Bit More
The Magnis Australian Shepard Dog 2023 Valentines Squad is part of the 2023 Valentine Squad. It is a 14" Squishmallow, making it the perfect size to cuddle and hug. It is made from high-quality materials, so it is sure to last for many Valentine's Days to come. With its bright colors and soft texture, this Squishmallow is sure to become a fast favorite of your loved ones.
---
Best Valentine Dog with A Sweet Treat Cupcake Embroidery
Shop This Product!
Why It's A Winner
If you're looking for the perfect Valentine's Day gift, you'll love 2023 Valentine Gustavus the Dog! Not only is he incredibly cute and cuddly, but he also comes with a sweet treat cupcake embroidery. His oversized body and soft fur will make him the perfect companion for your loved one on Valentine's Day.
Know A Little Bit More
And with his signature friendly smile, you can be sure that your special someone will be reminded of your love each time they hug him close. Plus, his unique design is sure to stand out in any room, making him the perfect addition to any home. So don't wait to pick up your Gustavus today – it'll be a Valentine's Day they won't soon forget!
---
Best 2023 Valentine Tan Dog Embroidered Message
Shop This Product!
Why It's A Winner
We love the Stevon The Tan Dog 2023 Valentines Squad 8"! Not only is he cute and cuddly, but he's also got a special message embroidered on his belly - Hugs & Squishes with a Heart. He's got floppy and fluffy ears that are just begging to be snuggled, and he's the perfect size for hugs and cuddles.
Know A Little Bit More
Stevon is more than just a Valentine's Day gift - he's a certified scuba instructor! He loves how quiet the world becomes when he's swimming underwater and the way kelp beds sway softly with the current. He's a great companion for those who love the ocean and exploring the depths of the sea. Plus, he's made from super soft materials, so he's sure to be your teen's favorite cuddle buddy.
---
Best Cool Cat with Trendy Boba
Shop This Product!
Why It's A Winner
This Valentine's Day, make your favorite cool cat purr with delight! Get them the new 2023 Valentines Squad Gigi the Cat Squishmallow, complete with her trendy boba drink. This delightful combination is perfect for anyone who loves cats, bubble tea, and cuddles!
Know A Little Bit More
Plus, it's perfect for adding fun to any Valentine's Day celebration - or just for cuddling up with anytime! The cuddly fabric is super soft and huggable, and the vibrant colors will make your heart sing! Don't miss out on this unique opportunity for a special gift that won't soon be forgotten. Get ready to smile when you pick up this sweet little 2023 Valentine Squishmallow!
---
Best 2023 Valentine Sweet Teal Tabby Cat
Shop This Product!
Why It's A Winner
We love Corinna Teal Tabby Cat from the Squishmallow Valentines 2023 Squad! She's a soft and cuddly 11" plush toy that is perfect for cuddling and playing with. Her bright teal color and rainbow fuzzy ears make her an adorable addition to any Valentine's Day celebration. Plus, her fuzzy tummy has a heart on it that will make any kid feel extra special on Valentine's Day.
Know A Little Bit More
Corinna Teal Tabby Cat is part of the Squishmallow Valentines 2023 Squad, so she can be collected with her friends to make a full set of Valentine's Day stuffed animals. She is also made from a super soft material that is perfect for snuggling and playing with. Plus, she and her friend Priya love to look up at the clouds and pretend they're slaying dragons or hopping around on the clouds. So, why not add Corinna Teal Tabby Cat to your Valentine's Day celebration and make your kids feel extra special this year?
---
Best 2023 Valentine Panda Bear
Shop This Product!
Why It's A Winner
Stanley Panda is the perfect Valentine's Day gift for your special someone! His adorable black and white fur and XOXO stitched on his belly will be sure to make your special someone smile. His black heart eye patches add a unique and endearing touch to his look.
Know A Little Bit More
Stanley Panda is more than just a cute face. He's been practicing karate since he was small and is about to take his black belt test next month. When he's not kicking a punching bag, he's writing poetry. He's a well-rounded bear that will be sure to make your Valentine's Day extra special!
---
Valentines Day Squishmallow FAQs
How do you choose the perfect Valentine for a special someone?
As we mentioned above, it might come down to a coin toss!
Here are the most frequently asked questions about Squishmallows so you can know what to expect from these huggable companions.
What are Squishmallows made of?
Squishmallows are made of marshmallow-like polyester fabric and high-quality materials that are super soft and squishy. They're perfect for snuggling with on the couch or taking a nap on a long car ride. Their cloud-like texture makes them super comfortable and since they are lightweight, they are easy to pack or take on the go!
Can you put Squishmallows in the washer? Or in the dryer?
For best results and long-lasting cuddliness, don't put a Squishmallow in a machine washer or submerge it in water. The best way to clean these cutest plush toys is by spot cleaning with a damp cloth. Do not put your Squishmallow in the dryer. It's best to let it air dry.
Who was the very first Squishmallow?
Cam the Cat was released in March of 2017 and has been a fan favorite since! Cameron as he's known to his Squishmallow friends is so honored to be the first Squishmallow ever made by Collector Number. He continues to proudly serve as the main mascot of this popular brand.
How can you tell if a Squishmallow is rare?
This essential information is coming straight from the Squishmallow Fandom site!
➡️ https://squishmallowsquad.fandom.com/wiki/Rarity_Scale
"On April 19, 2022, Squishmallows revealed a new six tier Rarity Scale that would start appearing on tags to denote specific limited edition Squishmallows. Any Squishmallow with a rarity label has a maximum number of units that will ever be manufactured of them before their design is retired permanently."
Read all about the Rarity Scale and these 6 Tiers through the link above. The absolute rarest Squishmallows are part of the Founder's Redemption Card hidden in Squishmallows Trading Card Packs.
Keep in mind that price, collectibility, and resale value can also be impacted by additional factors such as the amount of inventory for sale and other special features and colors on any Squishmallow released.
Why do you recommend Amazon to buy your Squishmallows?
When you purchase these stuffed animals from an Amazon seller store website, you'll have the best opportunity for easy checkout and speedy delivery! You'll most likely save money on shipping and be able to track when your items are shipped. You can also contact Amazon support by phone or chat. They will accept returns and address concerns if needed. Plus you'll save time and frustration by shopping through your online browser on your device instead of trekking through the mall or specialty stores, including drugstores like Walgreens where you can't confirm availability without visiting the store. Inventory and item stock will vary by sites that sell privately. It's also a great opportunity to search all kinds of categories, apply filters, confirm details, and view satisfied customer videos for the perfect match based on your interests and preferences!
Who's Your Sweetheart?
As we countdown the days until Valentines Day 2023, be sure to add these 6 new Squishmallows to your list and refresh your Squishmallow Squad with a brand new squishy friend! These cuddly critters are perfect for anyone and everyone. Whether you're a diehard fan or just looking for a unique gift, these Squishmallows are sure to please. So mark your calendars and start counting down the days until February 14th!
Use the buttons below each product or the quick links below to get more information, current pricing, and delivery options on the products that are right for you!
And don't forget to check out our articles below or the Squishmallow Store for more cuddly friends!
Squishmallows Mentioned In This Article:
Magnis Australian Shepard Dog 2023 Valentines Squad 14"
Stevon The Tan Dog 2023 Valentines Squad 8"
Gigi the Cat with Boba Tea 2023 Valentines Squad 8"
Corinna Teal Tabby Cat 2023 Valentines Squad 11"
Stanley Panda White and Black 2023 Valentines Squad 16"
Life is like a box of Squishmallows!
You Might Also Enjoy These Articles:
And a fun article from our friends at LucksList!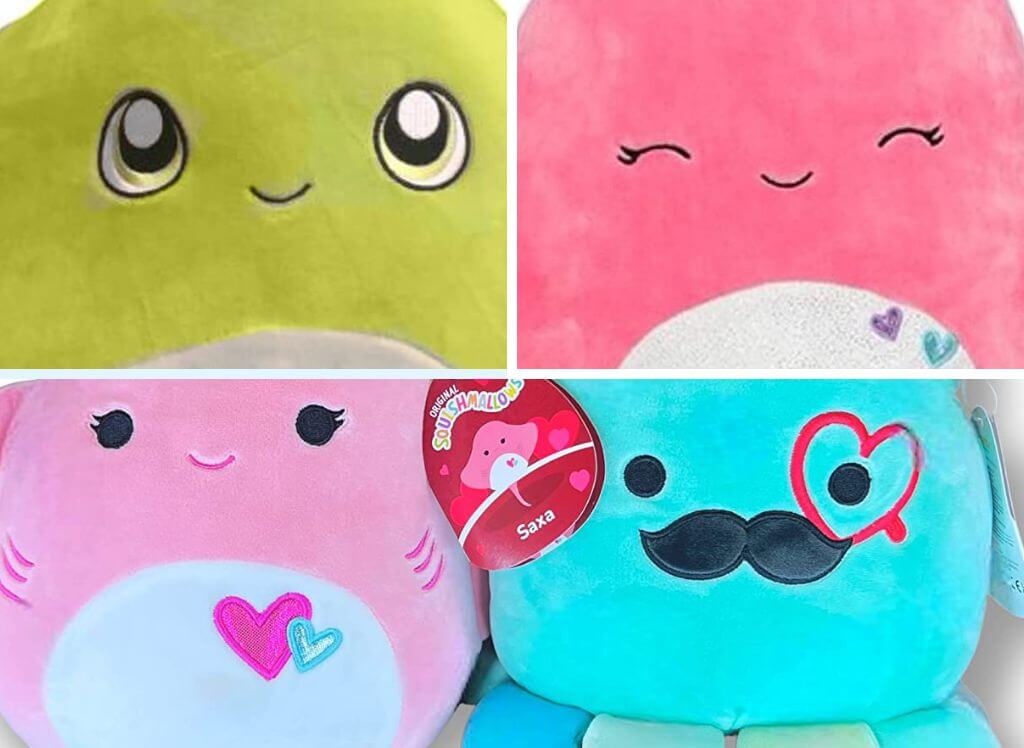 *️⃣
As an affiliate and associate of Amazon and other products, we do earn from certain qualifying purchases.
You can
read more about us here.
Would you love to do what I do? Blog and talk about your favorite products all day? Learn how ordinary people make money on the internet by watching this
free virtual workshop!