Whether you're looking for a mini, clip, or cupcake, we've rounded up the top Valentines Day Squishmallow sweethearts that are sure to make your special someone feel extra special this holiday!
These adorable, soft and cuddly plush toys come in a variety of shapes and sizes, from 5" Minis to Clip-Ons to Cupcakes. Each one is unique and sure to bring a smile to your loved one's face. Plus, they're perfect for cuddling and snuggling!
Squishmallows are the perfect way to show your affection this Valentine's Day. They're made with the highest quality materials, and each one is carefully designed to bring a little bit of joy into your life.
Plus, they make great collectibles, so your special someone can add to their Squishmallows collection for years to come.
How We Choose The Best For You!
Our official team of Squishmallow lovers (friends, family, and kids!) has hand picked these extra sweet and unique Valentine's gift choices!
The Good News: There are even more cute squishies to visit at the Amazon Squishmallow Store!
We do make sure they are the Official Kellytoy Squishmallow plush. We take a look at product availability on Amazon, current pricing, shipping, and delivery time-frames to find the best Valentine's gift options for you.
Official Squishmallows are all super soft and huggable, made with high-quality construction and soft material with a marshmallow-like texture.
That won't be of much use in helping you come to a decision!
They are all so sweet and charming, making it hard to pick just one. Which cuddly companion will offer the best hugs?
While it's going to be difficult, we can only offer so much advice. In the end, you're just going to have to take a poll!
We've done the hard work for you, so now all that's left is to find your perfect squishy Valentine and make it yours! We hope our compilation simplifies this process.
Show your affection this Valentine's Day with one of these adorable and lovable Squishmallows!
Everyone loves Squishmallows! And this Valentine Squad "D" set of 6 mini (5") Squishmallows is the perfect way to show your loved ones how much you care. This set includes 6 characters: Scarlet the Strawberry, Palasha the Dragon, Kimmie the Cupcake, Ludwig the Frog, Maya the Ice Cream, and Aleka the Axolotl.
All of these characters are popular and well-loved Squishmallows that are sure to bring smiles to your loved ones.
Shop This Product!
Valentines Squad "F" Set of 6 Mini (5") Squishmallows is the perfect gift for your kids this Valentine's Day. It includes 6 adorable characters: Reginald the Corgi Dog, Rey the Shark, Jules the Cat, Francis the Lion, Omar the Bear, and Danny the Dino.
All of them are made with super soft and squishy material that kids will love to cuddle with. Plus, they're all dressed up with Valentine Hearts, making them the perfect addition to your collection!
Shop This Product!
Make Valentine's Day extra special with the Valentine's Sweet Treats Collection Squishmallows! These ultra-collectible and ultra-squeezable kawaii plush are made of high quality and marshmallow soft materials that are perfect for cuddling!
The set of 8-inch stuffed animals features three desserts with sweet designs! Carmelita the Smores, Scarlet the Chocolate covered strawberry and Kimmie the Cupcake are sure to be your new favorite plush!
Shop This Product!
If you're looking for a squishy sidekick to brighten up your day, then look no further than Dustin! This adorable Dalmatian is the perfect companion - he's always ready for an adventure, whether it's saving your day or just bringing a smile to your face. He's not only smart and brave, but he also has a compassionate heart - he was once rescued himself and loves to give back by volunteering at his local fire station.
And with his soft fur and kind eyes, he'll be the perfect addition to any Valentine celebration. You won't regret adding Dustin to your squad - his charm and good nature will be sure to make your February even more special!
Shop This Product!
Caparinne is the perfect addition to your Valentine's Day celebrations! The Bigfoot Valentine Squad Squishmallow Backpack Clip 3.5" is the perfect way to show you care and make someone feel special. She has everything it takes to make this Valentine's Day one to remember.
Plus, these adorable Squishmallows come with a handy clip so they can easily be attached to a backpack, making them the perfect companion for all of your outdoor adventures! So don't wait - get your Valentine Squishmallows today and bring some love and joy into your life or that of someone special!
Shop This Product!
Valentine's Day is almost here and what better way to show your love than with the Maribel the Butterfly Valentine Squad Squishmallow Backpack Clip 3.5"? This adorable Squishmallow is the perfect companion for any adventure, featuring a pastel pink and purple color scheme.
Maribel comes with her own special butterfly wings that you can attach to your backpack or purse for an extra special touch of cuteness. She loves traveling and exploring new places, so take her along for a journey to make this Valentine's Day even more memorable! Plus, she provides a comforting hug of softness wherever you go.
Get your hands on this unique Squishmallow and make this Valentine's Day one-of-a kind!
Shop This Product!
Valentine's Day Squishmallows FAQs
How do you choose the perfect Valentine for a special someone?
As we mentioned above, it might come down to taking a poll!
We can share the most frequently asked questions so you can have an idea what to expect from these huggable companions!
What are Squishmallows made of?
Squishmallows are made of marshmallow-like polyester fabric and high-quality materials that are perfect for snuggling on the couch or making a nice pillow for a nap! Their super comfortable to hang around and since they are lightweight, they are easy to pack for your next vacation!
Can you put Squishmallows in the washer? Or in the dryer?
The best way to clean these cutest plush toys is by spot cleaning with a damp cloth. For best results and long-lasting cuddliness, don't put your squishy friend in a machine washer or submerge it in water. Do not put your Squishmallow in the dryer. It's best to let it air dry.
Who was the very first Squishmallow?
Cameron the Cat is not just the first Squishmallow released, but also a true fan favorite! He was released in March of 2017. Cam, as he's known to his Squishmallow friends, is so honored to be the first Squishmallow ever made! He continues to proudly serve as the main mascot of this popular brand.
How can you tell if a Squishmallow is rare?
The most complete and accurate info we can find is coming straight from the Squishmallow Fandom site!
➡️ https://squishmallowsquad.fandom.com/wiki/Rarity_Scale
"On April 19, 2022, Squishmallows revealed a new six tier Rarity Scale that would start appearing on tags to denote specific limited edition Squishmallows. Any Squishmallow with a rarity label has a maximum number of units that will ever be manufactured of them before their design is retired permanently."
Read all about the Rarity Scale and these 6 Tiers at the site link above. Fun fact: the rarest Squishmallows are part of the Founder's Redemption Card series and are hidden in Squishmallows Trading Card Packs.
Price, collectibility, and resale value can also be impacted by additional factors such as the amount of inventory for sale and other special features and colors on any Squishmallow released.
Time For Squishable Valentine Sweetness
Make this Valentine's Day one to remember with a Squishmallows gift! These adorable little friends come in so many different varieties, there's sure to be the perfect fit for anyone on your list. From minis and clips to cupcakes, these Valentines Day Squishmallows make the perfect present for any fan or collector. You can't even measure the love you are sharing with a huggable, squeezable Squishmallow!
Use the buttons below each product or the quick links below to get more information, current pricing, and delivery options on the products that are right for you!
And don't forget to check out our articles below or the Squishmallow Store for more cuddly friends!
Have a Sweet Valentine's Day!
😀
Before you leave, please
subscribe!
You will be the first to see reviews and recommendations on our newest favorites and FeedbackFinds!
You Might Also Enjoy These Articles:
Here's another article I contributed to LuckList!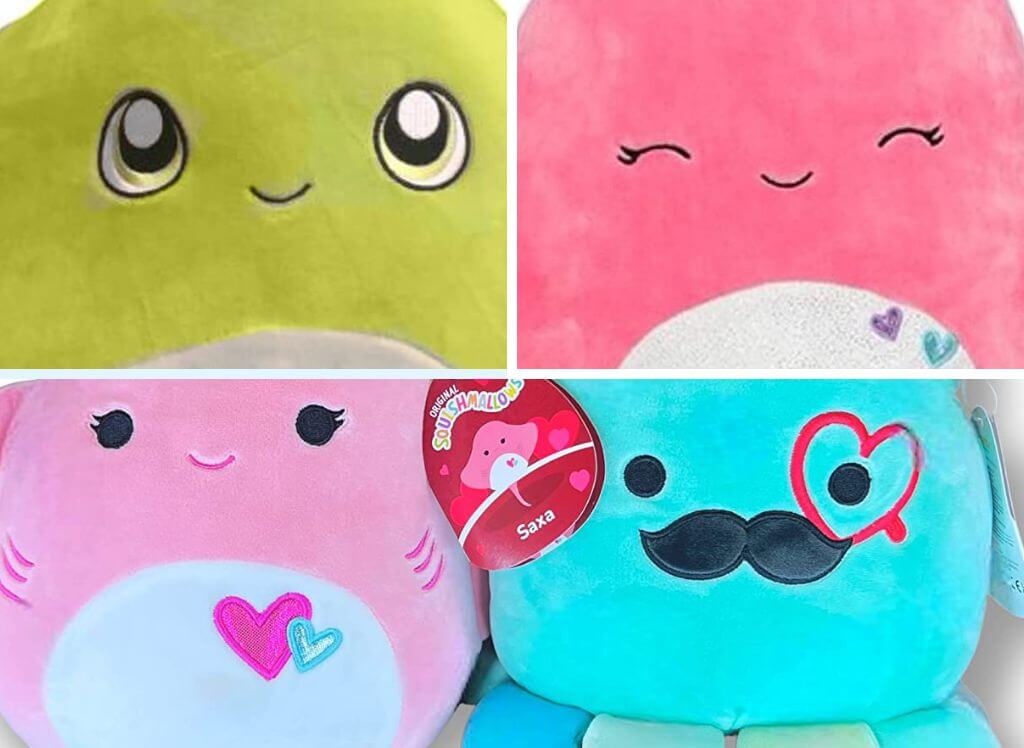 *️⃣
As an affiliate and associate of Amazon and other products, we do earn from certain qualifying purchases.
You can
read more about us here.
Would you love to do what I do? Blog and talk about your favorite products all day? Learn how ordinary people make money on the internet by watching this
free virtual workshop!
Why do you recommend Amazon to buy your Squishmallows?
When you purchase stuffed animals from an Amazon seller store website, you'll have easy checkout and speedy delivery! You'll usually save money on shipping and be able to track when items are shipped. You are able to contact Amazon support services by phone or chat. They will accept returns and address concerns if needed. Plus you'll save time and frustration by shopping through your online browser device instead of battling crowds in the mall or specialty stores, including drugstores like Walgreens where you can't confirm availability without visiting the store. Inventory will vary by sites that sell privately. It's also a great opportunity to search all kinds of categories, apply filters, confirm details, and view satisfied customer videos and reviews for the perfect match based on your interests and preferences!