Are you ready for a sleepover with your squad? We've got the perfect comfort upgrade - the best snuggly Squishmallow Neck Travel Pillow choices that will make any sleepover cozy and fun!
Learn all about our top picks, and why everyone loves having a little extra squishy support. Don't wait to get comfy - a Snuggly Sleepover awaits!
How We Choose Our Favorites
Our Squishmallow team has personally chosen these special Squishmallow Neck Pillows that are excited to travel with you wherever you go!
These Squishmallows have certainly passed the test of extreme cuteness and cuddliness!
We guarantee that every Squishmallow we recommend is 100% authentic from the Official Kellytoy company and made with the highest quality materials.
Not only are they built to last, but they also have a plush filling that makes them impossibly huggable! Rest assured: no matter which character you choose, it's sure to bring plenty of joy!
You made an excellent choice in selecting the perfect (or several) gifts for your special someone - they are sure to be delighted!
Be Prepared: Many popular Squishmallows can be out of stock unexpectedly. (Drat!) Luckily, there are many more adorable Squishmallow Squishies in our articles listed below and in the Squishmallow Store!
*️⃣
As an affiliate and associate of Amazon and other products, we do earn from certain qualifying purchases.
You can
read more about us here.
Our Top FeedbackFinds
Why It's A Winner
Gretchen is the perfect Squishmallow to daydream away in your treehouse with! Enjoying a sweet pineapple juice through her crazy straw, Gretchen loves to watch the clouds go by and imagine epic adventures.
Everyone needs a little bit of daydreaming every now and then, so why not make it even better with Gretchen!
Snuggle up against her soft polyester fur and let your imagination take you away on an epic journey – don't forget to pack plenty of pineapple juice!
Know A Little Bit More
Introducing Gretchen the Tie Dyed Sloth Neck Pillow! This Squishmallow originated in the Valentine Squad and as a neck pillow makes the perfect companion for travel and naps on the go.
The iconic marshmallowy-textured filling and soft plushy fabric are encased in a 12" rainbow of happiness that's sure to be a hit with any fan or collector. No hard care is required; just cuddle up Gretchen and enjoy!
---
Why It's A Winner
Meet Lianne, the lion-hearted Squishmallow. She loves dim sum, iced tea, and solving mysteries as much as she loves a good nap.
When she's not devouring dumplings or studying for her law degree to help people, you can find her training to be a champion neck pillow cuddler.
Lianne's cozy mane is super soft and bouncy, so you know your little one will be well rested from their afternoon snack break and dreams of becoming a lawyer like Lianne.
Invest in Lianne the Lion Neck Pillow today and bring the power of comfort and justice to your home!
Know A Little Bit More
The adorable and comfy Lianne The Lion Neck Pillow is the perfect way to bring a sense of warmth and comfort with you wherever you go.
With her iconic marshmallow-like texture and soft plushy fabric, Lianne is sure to be your next favorite Squishmallow!
---
Why It's A Winner
Henley is the perfect mix of adorable and magical, with her pink tie-dyed fur and alicorn wings. Her fun-loving personality makes her one of a kind and her passion for music will have you singing along in no time.
She's a great baker too, so don't forget to share a slice of lasagne when you get your Henley Squishmallow Neck Pillow. So don't miss out on getting your own magical Alicorn Pillow - it's the perfect gift for those who are looking for something unique and special!
Know A Little Bit More
Treat yourself (or someone special) to something truly magical! Henley the Alicorn Squishmallow is here to make all your dreams come true!
Her shimmery hot pink details, fluffy mane and tail, and round black eyes will take you on a journey of imagination. Plus, with iconic marshmallowy-like filling, this magical plush will be sure to bring comfort and joy wherever it goes.
Don't miss out - grab your own Henley the Alicorn Squishmallow today!
---
Why It's A Winner
Meet Brock the Bulldog--the quarterback of the football team who happens to have a heart of gold!
Not only is he amazing at making touchdowns on the field, but he also helps those in need by volunteering at the hospital and reading books to sick children.
He's working toward becoming a nurse one day with admirable determination and an impressive work ethic!
Know A Little Bit More
Introducing Brock the Bulldog in his super cool and cozy space suit neck pillow!
Perfect for those long trips on planes, trains, or cars - this iconic Squishmallow is perfect for any age and is sure to keep your neck comfy and your style on point.
Crafted with marshmallowy-like textured filling, soft plushy fabric, and snap closure - take off into the stars with Brock!
---
Why It's A Winner
Kennedy the Turquoise Unicorn Neck Pillow is the perfect companion for outdoor adventures! She loves to explore with you, from biking in the forest to relaxing around a campfire.
Her cuddly squishy pillow will ensure your neck and head are supported wherever your journey takes you. Plus, her sparkling turquoise hue and unicorn features will be sure to make a statement.
So why not bring this collectible Squishmallow Neck Pillow along on your next adventure? Not only is she comfy and stylish, she loves exploring just as much as you do!
Know A Little Bit More
Kennedy the Turquoise Unicorn Neck Pillow is perfect for anyone who needs an extra bit of magical comfort on their travels! Her soft and marshmallowy body will be sure to help you rest easy wherever you go.
Plus, her iconic silver horn with blue stripes makes her not only cuddly but also totally cute! Don't wait - snap up this Squishmallow today and Kennedy will soon become your go-to neck pillow companion!
---
Why It's A Winner
Meet Luther the Tie Dyed Shark, a lively and huggable Squishmallow who loves to make people sneeze! His bright and colorful design is sure to add some pizzazz to any room.
Plus, you can use him as a neck pillow for extra comfort when studying or watching TV - no more sore necks for you!
Buy Luther now and add a splash of fun and color to your life - perfect for collectors or kids (or those with kids at heart)!
Know A Little Bit More
Looking for snuggly companionship on those outdoor trips? Luther the Tie Dyed Shark Neck Pillow is your perfect companion!
His iconic marshmallow-like texture and soft plushy fabric make him easy to care for while adding style to any adventure.
Grab a Luther Squishmallow today and make every trip one to remember!
---
Squishmallow Neck Pillow FAQs
Have you only just stumbled across the world of Squishmallows? Well, look no further for all sorts of fun information!
We've compiled a comprehensive compilation of some frequently asked questions that are sure to assist in your purchasing decision.
Plus, if you're still on the fence about it - this might be exactly what helps sway your opinion either way!
What makes Squishmallows special?
In addition to their special marshmallow-like texture and filling, Squishmallows are squishy toys that come in just the right size for any occasion. Plus, each one has its own unique name and personality complete with a "Bio" and is sure to provide warm cuddly fun! These huggable plushies continue to win hearts with their irresistibly soft cuddles and sweet faces - let's see you try to collect just one!
When Did the Squishmallow Craze Begin?
Everybody wants to know "when did the first Squishmallows come out?" The first-ever Squishmallow, Cameron the Calico Cat, made his debut in 2017 created by the Kellytoy company. In addition to his cute name and delightful personality, this first critter had seven friends to join him on his squishy journey! With their super soft filling and a wide range of characters, it was only natural that the Squishmallow craze took off!
What is a Flip-A-Mallow type of Squishmallow?
Flip-A-Mallow Squishmallows were first released in 2020 and are a line of the cutest plush toys around made from super soft marshmallow-like polyester fabric. They come in a variety of sizes, shapes, and colors, and feature a unique flip design that lets you flip the Squishmallow inside out to reveal two different characters. They are perfect for cuddling, playing, and collecting.
What age ranges like Squishmallows?
Squishmallows have become a beloved toy among all age groups. Young kids, ages 3-10 adore them because they are made from soft spandex polyester stuffing and are super soft and comforting. Adults also adore Squishmallows due to their undeniable cuteness – they make a unique gift to show your appreciation on any occasion! With an endless number of characters to choose from, everyone is sure to find something they connect with!
Are Squishmallows safe for small children?
For very young Squishmallow lovers, always opt for ones without small adornments and other decorative pieces that could cause choking or other hazards. Double-check the Squishmallow tag for age suggestions. Most will say they are safe from ages zero and up.
What materials are used to make Squishmallows?
Squishmallows are made of a marshmallow-like material and packed with an ultra-soft stuffing crafted from 100% recycled polyester fibers. This special combination gives them their distinctive, cuddly texture-- one that's both cozy and squishy to the touch!
Can you put Squishmallows in the washer? Or in the dryer?
For best results and long-lasting cuddliness, don't put a Squishmallow in a machine washer or submerge it in water. The best way to clean these cutest plush toys is by spot cleaning with a damp cloth. For the longest life, do not put your Squishmallow in the dryer. It's best to let it air dry.
That said, life is crazy and Squishmallows are well-loved and constantly squished by kids of all ages who really do take them everywhere! If necessary, machine wash with mild detergent, and tumble dry low. I'm a parent, so I get it! But please hand wash and air dry those with delicate parts and pieces or other special appliques, fuzzy materials, accessories, and ornaments.
How can you tell if your Squishmallow is rare?
This essential information is coming straight from the Squishmallow Fandom site! "On April 19, 2022, Squishmallows revealed a new six-tier Rarity Scale that would start appearing on tags to denote specific limited edition Squishmallows. Any Squishmallow with a rarity label has a maximum number of units that will ever be manufactured of them before their design is retired permanently."
How valuable are rare Squishmallows?
In addition to understanding the Rarity Scale, keep in mind that original price, date sold, collectibility, and resale value can also be impacted by additional factors such as the amount of inventory for sale and other special features and colors on any Squishmallow released.
Are there customer reviews or testimonials available regarding quality and value?
Yes! Customer reviews and testimonials are available regarding the quality and value of these items. You can find them by clicking through the buttons above and also on third-party review sites. Squishmallows get tons of positive feedback! You can read reviews, check the average rating value, and see which favorites reviewers recommend. And once in a while, you get to see a cute fan video!
Better Hit The Road!
Are you looking for the perfect companion when traveling or snuggling up on the couch to watch your favorite show? Soft, cuddly, and oh-so supportive, they're sure to make any journey more enjoyable. So why not choose a Squishmallow neck pillow today - you won't regret it!
Get the most up-to-date pricing and delivery options on your favorite Squishmallow Neck Pillow by simply clicking the corresponding button below! Your perfect pillow is just a few clicks away.
Don't forget to explore our articles below or hop over to the Squishmallow Store for some extra cuddles and affection!
Happy Trails to You!
😀
Before you leave, please
subscribe!
You will be the first to see reviews and recommendations on our newest favorites and FeedbackFinds!
You Might Also Enjoy These Squishmallow Collections:
Better yet, check out our full collection of Squishmallow articles!
And here's a fun article I contributed to LucksList!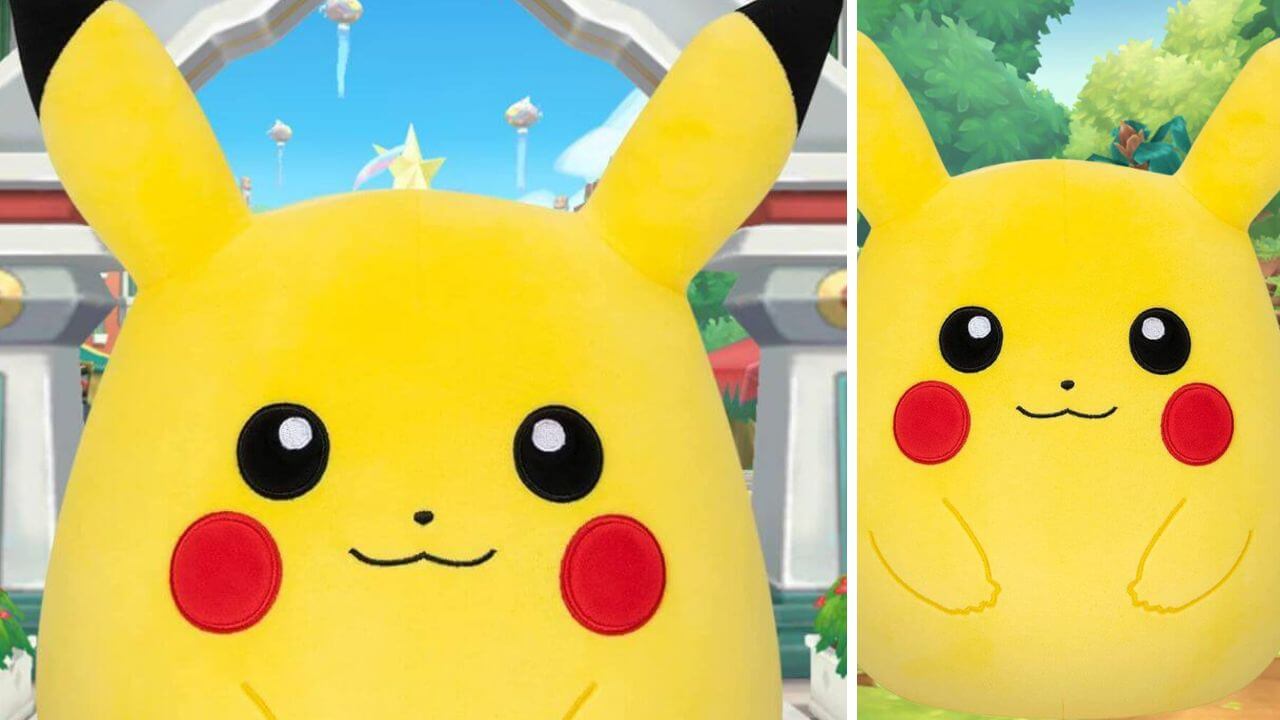 Would you love to do what I do? Blog and talk about your favorite products all day? Learn how ordinary people make money on the internet by watching this
free virtual workshop!
Why do you recommend Amazon to buy your Squishmallows?
When you purchase these stuffed animals from an Amazon seller store website, you'll have the best opportunity for easy checkout and speedy delivery! You'll most likely save money on shipping and be able to track when your items are shipped. The cost to ship may be fully covered by Amazon Prime for members regardless of the package weight. You can also contact Amazon support by phone or chat. They will accept returns and address concerns if needed. Plus you'll save time and frustration with quick access to your favorites by shopping through your online browser on your device instead of trekking through the mall or specialty business, including drugstores like Walgreens, and ads where you can't confirm availability without visiting the store. When clicking through to get more product information, you will also see related and additional suggested products on the same page link. Inventory and item stock will vary by sites that sell privately. It's also a great opportunity to search all kinds of categories, apply filters, confirm details, and view satisfied customer comments, and videos for the perfect match based on your interests and preferences!