Get ready to hop into Easter with these 7 cuddly Easter Squishmallows!
'Tis the season to get your Easter roster ready, and if you're looking to fill in some new spots, we've got just the thing!
Introducing Easter Squishmallows: cute, cuddly, and oh-so-squishy friends that will definitely make this season even more special.
Read on to discover our top favorites and add them to your squad today!
How We Choose Our Favorites
Our Squishmallow team has personally chosen these special Easter Squad members from down on the farm!
From pigs to cows to lambs and more, you're going to find a favorite!
That's kind of subjective, but these Squishmallows all passed the super cute and cuddly test!
We always make sure the Squishmallows we choose are genuine Official Kellytoy plush.
Squishmallows are made with high-quality construction and the most huggable marshmallow-like, soft filling.
All we know is that you can't go wrong with any of these adorable characters!
The lucky gift recipient is going to love the one (or three) you pick for them!
Be Prepared: As the holiday approaches, many popular Squishmallows begin to go out of stock. (Eeeekkk!)
Don't panic; there are many more adorable Easter Squishmallows in our articles listed below and at the Squishmallow Store!
*️⃣
As an affiliate and associate of Amazon and other products, we do earn from certain qualifying purchases.
You can
read more about us here.
Our Top FeedbackFinds
Flower Pot, Big Eyes, What's Not to Love?
Shop This Product!
Why It's A Winner
Introducing Hettie the Easter Squad Squishmallow Pig! This happy little mallow is ready to join her new family and explore the world with them.
She has been waiting a long time for this moment, and nothing can stop her from being excited about her new life.
So why not make Hettie part of your collectible family? Get one today so you don't miss out on the squishy adventures ahead!
Know A Little Bit More
Look no further for the perfect Easter gift! This 16" Squishmallow, Hettie the Pig, is a fun and cuddly plush with light purple bunny ears.
She's sure to make even the grumpiest Easter Bunny smile! Plus, her soft and marshmallowy-like textured filled body is as sweet as candy without being messy.
With easy-care materials, this Squishmallow will last through all kinds of exciting adventures. Get your hands on one today before they hop away
---
Adorable Sweetheart with a Heart-Shaped Nose!
Shop This Product!
Why It's A Winner
Lula the Lamb Easter Squad Squishmallow is the perfect addition to any Easter Basket.
With her pink and blue coat, white face, closed happy eyes with eyelashes, pink heart-shaped nose, rosy cheeks and clutching a lovely pink flower - she's the ideal companion for any celebration!
And of course, don't forget the cuddles - Squishmallows are just too cute to pass up. So why not add Lula to your Easter festivities? She'll bring a smile to everyone's faces this season!
Know A Little Bit More
Get ready to join the Easter Squad with Lula the Lamb Squishmallow! This cuddly and soft plush toy is perfect for all Squishmallow fans or collectors.
She's 12" tall and filled with a marshmallowy-like texture that will make you want to snuggle her! Plus, her fabric is easy-care for convenient clean up.
Don't miss out on this delightful lamb - add Lula the Lamb Squishmallow to your Easter basket today!
---
Sweet, Cute, and More Sweet, and More Cute!
Shop This Product!
Why It's A Winner
Love the retro vibe? Look no further - the Kalina the Cow Easter Squad Squishmallow is here!
This colorful cow brings a plethora of bright colors and fun shapes to your party. Mixing traditional with modern, you'll love her unique take on decorating.
So go ahead and add a touch of nostalgia to your home, and don't forget to pick up this collectible Easter Squishmallows for an extra-special surprise!
It's super cute, and most importantly, it's totally mod. Get yours today - your friends will be jelly!
Know A Little Bit More
With her bright colors, small horns, and a flower on her belly, Kalina the Cow Easter Squad Squishmallow is sure to bring some life into your collection.
Not only is she cute and cuddly, but with her iconic marshmallowy-like filling and soft plushy fabric, she's perfect for snuggling up on those cozy nights.
Get one today - you won't regret it!
---
Shop This Product!
Why It's A Winner
Aimee the Chick is quite the catch for any Easter egg hunt - she's an event planner extraordinaire!
From clubs to competitions, shows and more, this Squishmallow knows how to keep you entertained. She even has plans for red carpet events of her own one day.
And with a look so charming and cuddly, why wouldn't you want to add Aimee the Chick to your Easter collection?
Get her now before someone else snaps her up and adds this Squishmallow superstar to their squad!
Know A Little Bit More
Aimee the Chick Easter Squad Squishmallow is the perfect gift for any kid or collector!
She offers a marshmallowy-like texture and ultra-soft plush fabric that make her a huggable companion you won't want to part from.
Her bright yellow color and rosy cheeks bring a ray of sunshine into any home, while her triangular orange beak and crest of feathers bring personality to life.
Get your hands on Aimee today - she's ready to be squished, loved, and cuddled!
---
Splotchy Cuteness, Big Eyes, and a Pretty Purple Flower!
Shop This Product!
Why It's A Winner
Rosie the Pig Easter Squad Squishmallow is ready to hop on over and join your family!
This cute, cuddly critter loves to munch on crunchy biscuits, stay up late for rock concerts with her pals, and snuggle up with grandma for a cup of tea.
Rosie's Squishmallow Easter Squad edition is an adorable collectible that's sure to add more than a little cuteness to any Easter Egg hunt.
So don't wait - hop on over and grab one before they're gone!
Know A Little Bit More
Want to make Easter a little more cuddly? Meet Rosie the Pig Squishmallow!
This extra big and soft plushy buddy is 12" tall, with expressive eyes and a lilac-colored flower.
Perfect for fans and collectors, she's also easy to care for and has that classic marshmallowy-like texture you know and love!
So grab one fast before someone else snuggles up to your new furry friend!
---
Why It's A Winner
Sophie the Lamb Easter Squad Squishmallow is the most fashionable of all the Squishmallows!
Taking inspiration from the beautiful flowers near her home, Sophie is a creative and inspiring fashion designer.
With her friends, she stages fabulous fashion shows that are always so much fun to watch. Now you can take this stylish lamb with you wherever you go!
Get your own Sophie the Lamb Squishmallow today and show off your Easter spirit in style with these collectible cuties.
Why buy an ordinary Easter treat when you can get a cuddly friend that will last for years? Hurry up and grab yours now before they fly away!
Know A Little Bit More
Looking for a stuffed animal companion that you'll love and cherish? Check out Sophie the Lamb Easter Squad Squishmallow!
This 8" tall cuddly cutie has white fur, pink cheeks, closed eyes and a rainbow striped fuzzy tummy.
She's made of easy care materials with iconic marshmallowy-like textured filling and soft plushy fabric.
Get your very own Sophie the Lamb Easter Squad Squishmallow today – she's sure to become your favorite furry friend!
---
An Extra Huggable Sweetie with a Beautiful Easter Egg!
Shop This Product!
Why It's A Winner
Belana the Cow Easter Squad Hug Mees is an artsy cow with a zest for life!

She loves to paint, and often creates art out of furniture designed by her brother Ronnie.
Belana has dreams of attending art school and one day opening a gallery to share their creations with everyone.
So, if you're looking for an adorable collectible this Easter, why not support budding artistic talent?
Get yourself a Belana the Cow Easter Squad Hug Mees - she might just be the next Picasso!
Know A Little Bit More
Hop on over and get a hug from Belana the Cow Easter Squad Squishmallow!
She's got bright yellow horns, light blue patches, and an adorable Easter egg on her tummy.
Perfect for any collector or fan of cuddly toys, this 14" tall marshmallow-like creature provides comfort and joy in easy-care materials.
Don't miss out - get your own hug today!
---
Squishmallow FAQs
We've compiled a list of the most frequently asked questions about Squishmallows! It's possible you are new to the world of Squishmallows - almost impossible, but it could happen! Read on for lots of fun info, and if you're on the fence about your purchase, this information might help you decide!
What age ranges like Squishmallows?
Squishmallows have become a beloved toy among all age groups. Young kids, ages 3-10 adore them because they are made from soft spandex polyester stuffing and are super soft and comforting, .
For very young Squishmallow overs, always opt for one without small pieces that could cause choking. Adults also adore Squishmallows due to their undeniable cuteness – they make a unique gift to show your appreciation on any occasion!
With an endless number of characters to choose from, everyone is sure to find something they connect with!
Is Squishville the same as Squishmallow?
Squishville is the newest addition to Squishmallows! It doesn't just boast unbelievably soft characters. Its one-of-a-kind playsets are made entirely of plush material!
And they are perfectly sized. Each mini plush measures two inches tall. These are also the first play sets crafted only from cozy, plush materials!
What materials are used to make Squishmallows?
Squishmallows are made of a marshmallow-like material and packed with an ultra soft stuffing crafted from 100% recycled polyester fibers.
This special combination gives them their distinctive, cuddly texture-- one that's both cozy and squishy to the touch!
Are there customer reviews or testimonials available regarding quality and value?
Yes! Customer reviews and testimonials are available regarding the quality and value of these items. You can find them by clicking through the buttons above and also on third-party review sites.
Squishmallows get tons of positive feedback! And once in a while you get to see a cute fan video!
When Did the Squishmallow Craze Begin?
Everybody wants to know "when did the first Squishmallows come out?" The first-ever Squishmallow, Cameron the Calico Cat, made his debut in 2017 created by the Kellytoy company.
In addition to his cute name and delightful personality, this first critter had seven friends to join him on his squishy journey!
These soft and huggable stuffed animals had a slow start but went on to become super fan favorites during the pandemic. The credit for the upward trend goes to the Tiktok Gen Z fans who had to stay at home in 2020.
It was a true social media phenomenon! They began to share fun pics and videos of popular items in their growing collections.
With their super soft filling and a wide range of characters, it was only natural that the Squishmallow craze took off!
These huggable plushies continue to win hearts with their irresistibly soft cuddles and sweet faces - let's see you try to collect just one!
Can you put Squishmallows in the washer? Or in the dryer?
For best results and long-lasting cuddliness, don't put a Squishmallow in a machine washer or submerge it in water.
The best way to clean these cutest plush toys is by spot cleaning with a damp cloth. For longest life, do not put your Squishmallow in the dryer. It's best to let it air dry.
That said, life is crazy and Squishmallows are well-loved and constantly squished by kids of all ages who really do take them everywhere!
If necessary, machine wash with mild detergent, and tumble dry low.
I'm a parent, so I get it! But please hand wash and air dry those with delicate parts and pieces or other special appliques, fuzzy materials, and ornaments.
How can you tell if your Squishmallow is rare?
This essential information is coming straight from the Squishmallow Fandom site!
➡️ https://squishmallowsquad.fandom.com/wiki/Rarity_Scale
"On April 19, 2022, Squishmallows revealed a new six tier Rarity Scale that would start appearing on tags to denote specific limited edition Squishmallows. Any Squishmallow with a rarity label has a maximum number of units that will ever be manufactured of them before their design is retired permanently."
Read all about the Rarity Scale and these 6 Tiers through the link above. The absolute rarest Squishmallows are part of the Founder's Redemption Card hidden in Squishmallows Trading Card Packs.
Keep in mind that price, collectibility, and resale value can also be impacted by additional factors such as the amount of inventory for sale and other special features and colors on any Squishmallow released.
What are Squishmallow Hug Mees?
Squishmallows Hug Mees are a super cute category of Squishmallows that have 3D arms and legs that make them super soft, huggable plush toys. They are made from a special marshmallow-like material that is designed to be both huggable and squeezable.
Squishmallow Hug Mees come in a variety of sizes, shapes, and colors, and are perfect for cuddling and playing. They are perfect for kids of all ages and make great gifts for any occasion.
Easter On The Farm!
Trying to summarize all that cuteness is pretty difficult!  For these Easter Squishmallows, we have just one thing to say: get them while they're hot!
They make the perfect little Easter gift for your friends and family, and you won't regret it once you see their happy faces when they unwrap their special surprise.
So grab some of these soft and squishy goodies! They'll make any Easter celebration extra special.
Use the buttons below your favorites to get more information, current pricing, and delivery options on the Squishmallows that have caught your eye!
And don't forget to check out our articles below or visit the Squishmallow Store for more cuddly friends!
Enjoy your hoppity spring!
😀
Before you leave, please
subscribe!
You will be the first to see reviews and recommendations on our newest favorites and FeedbackFinds!
You Might Also Enjoy These Squishmallow Collections:
And here's an article I contributed to LucksList!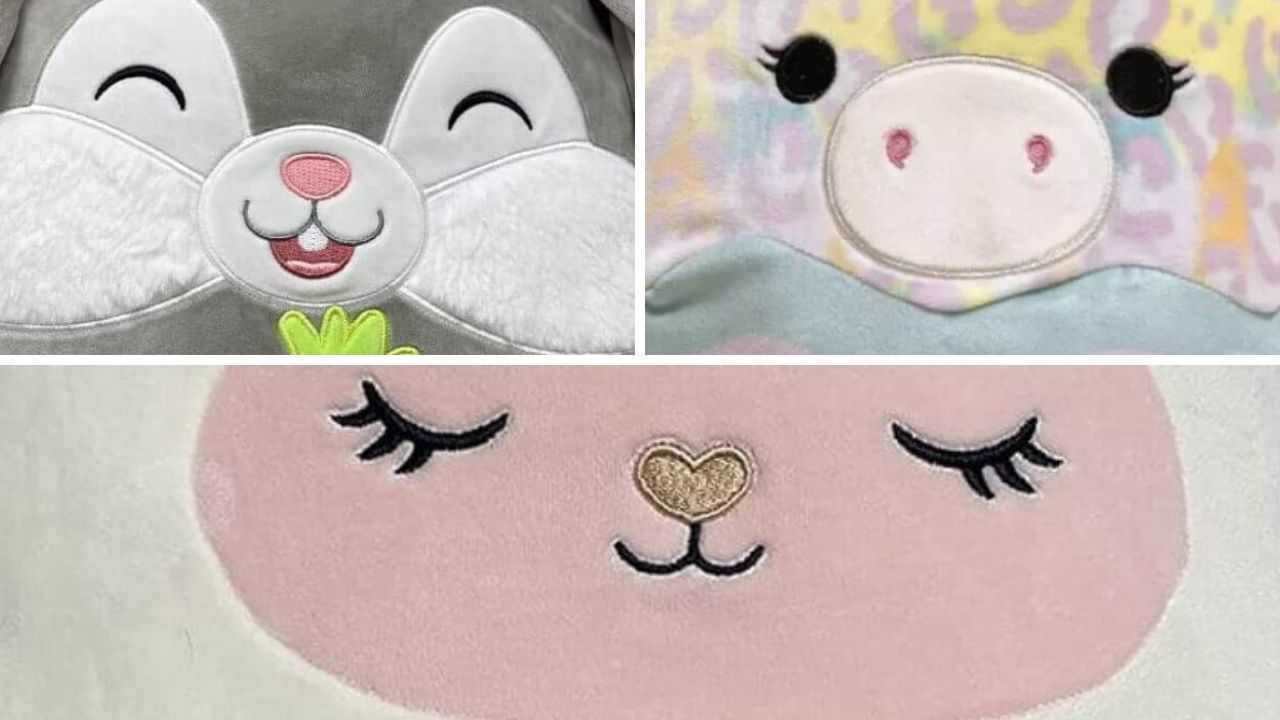 Would you love to do what I do? Blog and talk about your favorite products all day? Learn how ordinary people make money on the internet by watching this
free virtual workshop!
Why do you recommend Amazon to buy your Squishmallows?
When you purchase these stuffed animals from an Amazon seller store website, you'll have the best opportunity for easy checkout and speedy delivery! You'll most likely save money on shipping and be able to track when your items are shipped.
You can also contact Amazon support by phone or chat. They will accept returns and address concerns if needed. Plus you'll save time and frustration by shopping through your online browser on your device instead of trekking through the mall or specialty stores, including drugstores like Walgreens, and ads where you can't confirm availability without visiting the store.
Inventory and item stock will vary by sites that sell privately. It's also a great opportunity to search all kinds of categories, apply filters, confirm details, and view satisfied customer videos for the perfect match based on your interests and preferences!