Love is in the air and it's time to get ready for Valentine's Day 2023! Squishmallows Hug Mees are here to make sure your Valentine's Day is full of hugs and love. These adorable plushies are the perfect way to show your love and affection.
You'll love the Hug Mees from the brand new 2023 Valentines Squad! And with their unique ability to hug, it's easy to give someone a special hug from anywhere. They are made of super soft and huggable material that is perfect for snuggling and cuddling.
How We Choose Our Favorites
These cuddly plush toys come with their big eyes and soft fur, they are sure to bring a smile to everyone in the room!
Our team of experts has scoured Amazon for the best deals on these adorable little friends. We've done all the hard work so that you can easily find and purchase the perfect squad member for your special someone this holiday season.
The closer we get to the holiday, these popular Squishies go in and out of stock quickly! If you're favorite isn't available, take a look through our recommended collections below and double-check the Squishmallow Store!
Who will join your squad next?
Best for Sweet Family Puppy Lovers!
Shop This Product!
Why It's A Winner
Duffy Brown Dog 2023 Valentine Squad Hug Mees Collectible is the perfect companion for anyone that loves having a sweet family dog! He is a snuggly, playful champion with big puppy eyes, who will fit right into any family.
He has floppy chocolate ears and two cute hearts on his tummy and is so soft and cuddly, you won't be able to resist giving him a hug!
Know A Little Bit More
Not only is Duffy a great friend, he's always ready for some much-needed snuggles and cuddles. And don't forget to give him a treat every once in a while – he deserves it! Get your own Duffy Brown Dog 2023 Valentine Squad Hug Mees Collectible today and start some new adventures!
---
Best for Little Chefs!
Also available as Desmund 12"!
Shop This Product!
Why It's A Winner
Desmund Dragon 2023 Valentine Squad Hug Mees Collectible is the perfect addition to your little chef's kitchen!
Not only is he the best when it comes to cooking with the best spices and flavors, but Desmund can also heat up his steak with his burning hot breath. Everyone in his squad loves a special, home-cooked meal made by Desmund!
Know A Little Bit More
Desmund is an incredibly cute and cuddly toy that stands an impressive 18" tall. He has silvery horns, dark green spikes, and two hearts on his tummy that make him even more adorable.
He's sure to be a big hit with your little one, and kids will love taking him everywhere they go! Plus, he's the perfect addition to any Valentine's Day celebration. Get your Desmund Collectible today!
---
Best for Adventurous Friends!
Shop This Product!
Why It's A Winner
Cam the Calico Cat 2023 Valentine Squad Hug Mees Collectible is the perfect companion for your adventurous friends! He's 12" tall, has traditional coloring and two hearts on his tummy, adding a touch of sweetness and love to your friend's collection.
Cam is also a loveable favorite, a great addition to any Hug Mees collection, and is sure to provide lots of fun and exploration for your adventurous buddies.
Know A Little Bit More
Cam the Calico Cat 2023 Valentine Squad Hug Mees Collectible is made from high-quality materials and is sure to last for years to come.
He's designed to withstand plenty of wear and tear, making him the perfect companion for your rigorous journeys. Get your Cam today and let the adventures begin!
---
Why It's A Winner
Duster Dinosaur 2023 Valentine Squad Hug Mees Collectible is an adorable and cuddly toy that loves to take power naps! Duster is an 18" tall, bright red dino with two hearts on his tummy and cute spiky white teeth.
He's perfect for snuggling up and taking a cozy nap. Plus, Duster says he gets the best ideas for new drawings after waking up from a nap, and it always puts him in the best mood for the rest of the day!
Know A Little Bit More
This collectible makes a great gift for kids and adults alike. It's made with high-quality fabric and is sure to last through many naps.
Plus, he's a great addition to any bedroom or living room, adding some fun and personality to the space. So why wait? It's time to get your own Duster and start taking power naps!
---
Best for Fun on the Playground!
Shop This Product!
Why It's A Winner
Prince Pug 2023 Valentine Squad Hug Mees Collectible is the perfect way to join in on the fun on the playground!
Prince is considered royalty on the playground and is sure to bring joy and smiles with his adventurous Squishmallows pals. He's got all the usual ultra-soft stuffing and cuddly, huggable skills!
Know A Little Bit More
Prince is 12" tall with two hearts on his tummy! He's black, tan, and white with a super cute muzzle and wiggly ears, which will make every hug extra special.
Get your very own Prince the Pug 2023 and join in the fun on the playground today!
---
Best for Artists with A Good Attitude!
Shop This Product!
Why It's A Winner
Esmeralda Unicorn 2023 Valentine Squad Hug Mees Collectible is the perfect companion for any artist with a good attitude. Her creativity is always shining through with her collections, which will brighten up any room.
She stands at 12 inches tall with a silver horn, pink mane and tail, and two hearts on her tummy.
Know A Little Bit More
Esmeralda is the perfect gift for any unicorn lover in your life. She has a vibrant personality and is sure to bring out the smiles!
This collectible is made with high-quality materials and is sure to last for years to come. Plus, she's the perfect size for cuddling and displaying in your home. Get your very own Esmeralda Unicorn today!
---
Best for Driving Your Car to a Monster Movie!
Shop This Product!
Why It's A Winner
Carson Grey Cat 2023 Valentine Squad Hug Mees Collectible is the perfect companion for driving your car to a monster movie or setting off on a road trip!
He is an amazing 26" tall with a few black stripes and cute pink ears. Carson loves cars, monster movies, and traveling to new places. He calls Texas his home state, but has been to many other places in the U.S.
Know A Little Bit More
Carson Grey Cat 2023 Valentine Squad Hug Mees Collectible is made from a high-quality plush material, making him super soft and cuddly.
He's the perfect companion for long car rides, or for snuggling up with on cold nights. He's the perfect gift for any car enthusiast, monster movie fan, or traveler. So why wait? Grab your own Carson today!
---
Squishmallow FAQs
We compiled a list of the most frequently asked questions for you to check out! If you're on the fence about your purchase, this information might help you decide!
What are Squishmallow Hug Mees?
Squishmallows Hug Mees are irresistibly adorable! Their 3D arms and legs make them ultra-plush, huggable toys. The special marshmallow-like material they're composed of is designed to be both cuddly and squeezable - perfect for hugs!
We're super excited that a Bluey Hugmee is coming out soon! (Aug 2023)
Squishmallow Hug Mees make delightful companions, perfect for children of all ages! Whether you're a fan of the large and lovable or small and sassy models, there's something to fit everyone. And with plenty shapes, sizes, and colors to choose from - these cuddly critters make ideal presents for any special occasion. Although, we didn't find a favorite 10" (25cm) Hug Mees at the current time. There's Connor the Cow Hugmee, Patty Hugmee, and Raccoon Hug Me Squishmallow, just to name a few! Plus we've been keeping our eyes out for a Dunkie Hugmee Squishmallow - he's a Bison - but we haven't been able to find him anywhere!
What age range likes Squishmallows?
Squishmallows have become an adored item by adults and children alike! Kids aged 3-10 years old are especially drawn to them due to their plush, cuddly surface crafted from durable spandex polyester stuffings; offering a comforting hug that they won't want to let go of anytime soon!
To ensure the safety of your little ones, make sure to choose Squishmallows without any small parts that could be a choking hazard. But don't forget – adults just love these adorable creatures too! Whether it's for a birthday or an anniversary, give the gift of cuteness with Squishmallows.
With an unending variety of characters, each individual is certain to discover something they relate with - and you can finally put away those pesky cell phones! What more could you ask for?
Is Squishville the same as Squishmallow?
Welcome to Squishville, the latest addition to the beloved Squishmallows family! Not only are they incredibly soft and cuddly characters - but also boast one-of-a-kind playsets crafted completely from plush material. And that's not all; these mini plushy pals measure in at a tiny two inches tall. Truly revolutionary for the toy industry, this marks an exciting first with never before seen play sets made entirely of cozy, luxurious materials!
What materials are used to make Squishmallows?
Squishmallows are a unique blend of marshmallow-like material and ultra soft stuffing, crafted from 100% recycled polyester fibers. This exclusive concoction results in an irresistible snuggly feel that is both comforting and plush to the touch!
Are there customer reviews or testimonials available regarding quality and value?
Feeling uncertain about the quality or value of Squishmallows? Before you delete a favorite Squishie from your list, read through customer reviews and testimonials to learn how others feel. You can find these on the buttons above, third-party review sites, and around other areas of the website for more information. Unsurprisingly, many people have great things to say about these Squishmallows! Plus you'll get help with shipping details too.
When Did the Squishmallow Craze Begin?
Have you ever wondered "when did Squishmallows first come out?" The answer is 2017, when Cameron the Calico Cat was born! This endearing character blazed a trail for seven other huggable critters created by the Kellytoy company. They all have their own unique names and personalities - perfect for snuggles anytime!
Despite a sluggish start, these cuddly stuffed animals rocketed to fan-favorite status during the pandemic. Their success can be attributed to Tiktok's Gen Z users who were confined at home in 2020 and helped generate an enthusiastic demand for them.
It quickly became a social media sensation! They joyfully posted humorous pictures and videos of the most popular items in their ever-expanding collections.
With their comfy stuffing, smooth fabric and array of characters, it's no wonder everyone has been pulled into the Squishmallow craze!
Their irresistibly soft cuddles and sweet faces have been capturing hearts ever since, leading many to collect them all! It's no wonder these huggable plushies are so beloved.
Can you put Squishmallows in the washer? Or in the dryer?
For best results and long-lasting cuddliness, don't put a Squishmallow in a machine washer or submerge it in water. The best way to clean these cutest plush toys is by spot cleaning with a damp cloth. Do not put your Squishmallow in the dryer - let it air dry.
How can you tell if a Squishmallow is rare?
This essential information is coming straight from the Squishmallow Fandom site!
➡️ https://squishmallowsquad.fandom.com/wiki/Rarity_Scale
"On April 19, 2022, Squishmallows revealed a new six tier Rarity Scale that would start appearing on tags to denote specific limited edition Squishmallows. Any Squishmallow with a rarity label has a maximum number of units that will ever be manufactured of them before their design is retired permanently."
Read all about the Rarity Scale and these 6 Tiers through the link above. The absolute rarest Squishmallows are part of the Founder's Redemption Card hidden in Squishmallows Trading Card Packs.
Keep in mind that price, resale value, and collectibility can also be impacted by additional factors such as the amount of inventory for sale and other special features and colors on any Squishmallow released.
Will You Be My Valentine?
If you're looking for a unique and meaningful way to show your love this holiday, don't wait any longer! Get ready with the Hug Mees Valentine's 2023 Squad! Show your love and affection with these cuddly and adorable plushies.
It's the perfect way to make your Valentine's Day extra special and memorable. So don't miss out on this amazing opportunity and get ready to give the gift of love this Valentine's Day!
Use the buttons below each product or the quick links below to get more information, current pricing, and delivery options on the products that are right for you!
And don't forget to check out our articles below or visit the Squishmallow Store for more cuddly friends! We've been on the lookout for a Squishmallows Hug Mees Axolotl - if you spot one, let us know!
I 💖You! 🙂
😀
Before you leave, please
subscribe!
You will be the first to see reviews and recommendations on our newest favorites and FeedbackFinds!
You Might Also Enjoy These Squishmallow Collections:
And here's an article I contributed to LucksList!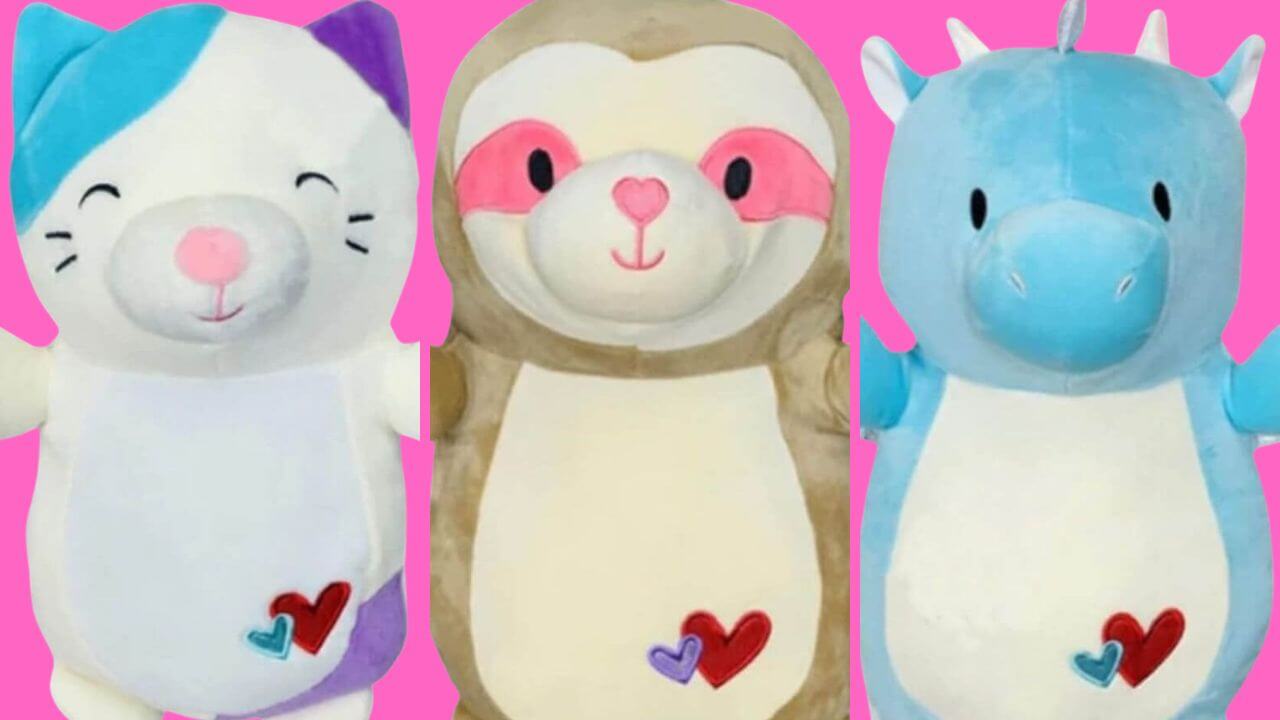 *️⃣
As an affiliate and associate of Amazon and other products, we do earn from certain qualifying purchases.
You can
read more about us here.
Would you love to do what I do? Blog and talk about your favorite products all day? Learn how ordinary people make money on the internet by watching this
free virtual workshop!
Why do you recommend Amazon to buy your Squishmallows?
While Squishmallows are sold to interested customers literally everywhere, purchasing your plushies from Amazon has some advantages. When you purchase these stuffed animals from an Amazon seller store website, you'll have the best opportunity for easy checkout and to use your Prime account to ship with free and speedy delivery! You'll most likely save money on shipping and be able to track when your items are shipped. You can also contact Amazon support by phone or chat. They will accept returns and address concerns if needed. Plus you'll save time and frustration by shopping through your online browser on your device instead of trekking through the mall or specialty stores, including drugstores like Walgreens where you can't confirm availability without visiting the store. Inventory and item stock will vary by sites that sell privately. It's also a great opportunity to search all kinds of categories, apply filters, confirm details, and view satisfied customer videos for the perfect match based on your interests and preferences!