Ready to find your perfect Easter Squishmallow companion?
If you're looking for a cute, cuddly addition to your squad this season, then we've got a fabulous idea for you—New 2023 Easter Squishmallows holding decorated eggs!
Get ready to start hopping as we take a look at our top favorites!
How We Choose Our Favorites
Our Squishmallow team has rounded up these special New 2023 Easter Squishmallows that are holding decorated eggs!
Subjectivity aside, these Squishmallows all received a top score for cuteness and cuddliness!
Squishmallows takes pride in ensuring all of their plushies are genuine Official Kellytoy soft toys. Crafted with superior quality and a marshmallow-like filling that's so huggable it will melt your heart!
With such an array of fun characters to choose from, you can be sure that no matter which one you pick - they'll bring joy into your life!
The fortunate recipient of your gift will undoubtedly adore the present you chose for them!
Be Prepared: As the holiday approaches, many popular Squishmallows will begin to go in and out of stock (Eeek!) Shopping traffic increases and many become sold out.
Don't sweat it; there are many more adorable Easter Squishmallow Squishies listed in our articles below and at the Squishmallow Store!
*️⃣
As an affiliate and associate of Amazon and other products, we do earn from certain qualifying purchases.
You can
read more about us here.
Our Top FeedbackFinds
Why It's A Winner
Wu the Bunny holding a pink egg is from the 2023 Easter Squad! She's the cutest and softest Squishmallow around!
Not only does this adorable bunny love to jump in puddles during spring showers, but she also loves to hang out with Giovana and watch comedy specials.
Get ready for some laughs, hugs, and of course plenty of Easter fun when you add this special Squishmallow to your collection.
Don't miss out on the chance to cuddle up with Wu--it's perfect for anyone looking for an Easter BFF!
Know A Little Bit More
Don't miss out on the cutest member of the Easter Squad - Wu the Bunny! This 11" tall Squishmallow has a muted tie-dye pattern on her body and bunny ears!
She's holding an adorable pink Easter egg with knitting stitches, and its iconic marshmallowy-like texture and plush fabric make it perfect for a snuggle or two or making a statement in any collection.
Get your own sweet bunny today and hop into the holiday spirit!
---
Shop This Product!
Why It's A Winner
This chick is a rising star! Aimee the Chick with Pretty Egg 2023 Easter Squad is always on the go, whether it's planning events or strutting her stuff at competitions.
She's a multitasking marvel that is sure to make your Easter holiday shine! Plus, what better way to show your unique style than by collecting this limited-edition collectible?
Make sure you don't miss out and join the Aimee fan club now!
Know A Little Bit More
Meet Aimee the Chick! This lovely Squishmallow is full of charm, with her traditional yellow color and pink cheeks.
She's sweetly holding a blue egg with the phrase "Peepin' It Real" - perfect for any fan or collector looking for something unique.
Not to mention, she's 16" tall , made of easy care materials, and has that iconic marshmallowy-like textured filling for extra cuddliness.
So why not add a bit of joy to your collection and make Aimee the Chick with part of your family Easter celebration!
---
Shop This Product!
Why It's A Winner
Domingo the Goat is ready to make his singing debut - and he's even formed a band with his trusty Squad!
His beautiful voice has been carefully rehearsed over days of practice, and now it's time to show off why you should be buying this collectible Easter Squishmallow.
Get your hands on one before they're gone, because this singing sensation isn't likely to stay quiet forever!
Know A Little Bit More
Introducing Domingo the Goat, the newest addition to the 2023 Easter Squad! This adorable Squishmallow is sure to make a great addition to your collection.
He's 8" tall (also available in 12") and comes with a pretty egg featuring a knitted heart design.
Plus, he's made of easy care materials so you don't have to worry about him getting dirty. Get your hands on this marshmallowy-like textured cutie before it's too late!
---
Sweet Minnie Holding a Sweet Egg in a Sweet Purple Outfit!
Shop This Product!
Why It's A Winner
This adorable Squishmallow of Minnie Mouse is the perfect addition to any Easter squad! With her attitude of genuine thoughtfulness and politeness, she will fit right in with your collection.
Experience all that Minnie has to offer by adding her to your Easter Squad--because what better way to make this holiday the most delightful one yet than with something as cute and cuddly as Minnie?
Know A Little Bit More
Introducing the Minnie Mouse the Squishmallow! This super cute 10-inch marshmallowy friend is dressed for the occasion - a purple and white polka dot outfit with a pretty blue egg and dark pink bow.
Perfect for any holiday celebration or simply as a reminder to never outgrow your childhood dreams, this squishable delight is sure to bring joy and smiles to any home.
Plus, with its easy-care materials, it's sure to last many Easters to come!
---
We Love It When Mickey Can Join Our Squads!
Shop This Product!
Why It's A Winner
Easter 2023 is here and what better way to celebrate the season than with Mickey the Mouse holding a pretty Easter egg!
This ultra-soft Squishmallow is perfect for any Disney fan looking for a collectible item to add to their family's collection. Mickey shows off his charm and good looks as he holds this stripey Easter egg, bringing a touch of whimsy and nostalgia.
It's the perfect combination of adorable design and fun style that will bring smiles of joy all around.
So don't miss out on your chance to purchase this unique collectible item - it's sure to put a spring in your step this Easter season!
Know A Little Bit More
Don't be late to join Mickey the Mouse in the 2023 Easter Squad! He's come dressed for the occasion, sporting green shorts and a pretty pastel Easter egg.
Get your own 10" Squishmallow for an iconic plush experience that's as soft as marshmallows, and easy to look after.
Plus, it's great for fans or collectors looking to add something special to their display. Come join the squad - you won't regret it!
---
Stitch LOVES His Easter Egg!
Shop This Product!
Why It's A Winner
Looking for something to add more "hoppiness" to your Easter celebrations this year? Look no further than the 2023 Easter Squad's newest addition—Stitch the blue koala!
This illegally-made, genetically engineered extraterrestrial life-form is sure to bring a smile to your face.
Not only is he cute and cuddly, but his illegal prowess adds an element of intrigue that will make any collector jealous.
Don't let this one get away — add Stitch to your Easter lineup for a unique twist on the holiday season!
Know A Little Bit More
Wishing you a 'hoppy' Easter! This cuddly Squishmallow is the perfect addition to your 2023 Easter Squad.
He stands proudly with his bright yellow egg, decorated with colorful polka dots!
At 10" tall, he's a great way to add a bit of magic to your home this holiday season. Not to mention, the soft and marshmallowy-like fabric and textured filling makes him irresistibly huggable!
Add him to your collection today for lots of comfort and joy this Easter.
---
Gotta Love a Pink on Pink Squishmallow and with an Egg, Too!
Shop This Product!
Why It's A Winner
Don't let this little one fool you! Piglet is a fiery character, ready to conquer his fears and face any Easter adventure that comes his way. He's here with the 2023 Easter Squad, and he won't back down from a challenge.
Plus, who else can offer such adorable company when it comes to celebrating the holidays? Collect this brave Squishmallow today - don't worry, he won't cause any trouble - but you WILL have lots of fun!
Know A Little Bit More
Looking for a special friend to celebrate Easter with? Look no further than Piglet Holding an Easter Egg!
With his iconic marshmallowy-like textured filling and soft plushy fabric, this 10" tall Squishmallow is the perfect companion for all your festive celebrations.
Collectors and fans alike will love adding this egg-holding sweetheart with a blue polka dot and striped Easter egg to their collection! So don't wait – make sure you snag yours before they're all gone!
---
Pooh's Also Holding His Egg in a Sweet Easter Basket!
Shop This Product!
Why It's A Winner
Introducing the 2023 Easter Squad - starring Pooh, the beloved bear of the Hundred Acre Woods, holding an Easter egg and showing off his impressive strength!
This collectible Pooh is sure to bring smiles to all who see him. Afterall, what could be better than Pooh singing a song of praise for Piglet's selfless rescue mission?
Get your hands on this unique Squishmallows and make this Easter an egg-stra special one!
Know A Little Bit More
Who said Easter eggs can't be fun? Introducing the one and only Pooh, holding an Easter basket with a colorful decorated Easter egg.
This 10" tall Squishmallow is made from easy care materials and filled with marshmallowy-like textured filling. Get ready to add some jolly to your celebration - it's the perfect gift for any fan or collector!
---
Squishmallow FAQs
Are you only just now discovering the magic of Squishmallows? Don't worry - we've put together a list of FAQs to help you make an informed decision.
Even if you're still on the fence about getting your own, this information will definitely sway things in favor of 'yes'.
Read on and join us as we explore all that Squishmallows have to offer!
What age ranges like Squishmallows?
Squishmallows have become a beloved toy among all age groups. Young kids, ages 3-10 adore them because they are made from soft spandex polyester stuffing and are super soft and comforting, .
For very young Squishmallow overs, always opt for one without small pieces that could cause choking. Adults also adore Squishmallows due to their undeniable cuteness – they make a unique gift to show your appreciation on any occasion!
With an endless number of characters to choose from, everyone is sure to find something they connect with!
What materials are used to make Squishmallows?
Squishmallows are made of a marshmallow-like material and packed with an ultra soft stuffing crafted from 100% recycled polyester fibers.
This special combination gives them their distinctive, cuddly texture-- one that's both cozy and squishy to the touch!
When Did the Squishmallow Craze Begin?
Squishmallows are squishy toys that come in just the right size for any occasion. Plus, each one has it's own unique name and is sure to provide warm cuddly fun!
Everybody wants to know "when did the first Squishmallows come out?" The first-ever Squishmallow, Cameron the Calico Cat, made his debut in 2017 created by the Kellytoy company.
In addition to his cute name and delightful personality, this first critter had seven friends to join him on his squishy journey!
These soft and huggable stuffed animals had a slow start but went on to become super fan favorites during the pandemic. The credit for the upward trend goes to the Tiktok Gen Z fans who had to stay at home in 2020.
It was a true social media phenomenon! They began to share fun pics and videos of popular items in their growing collections.
With their super soft filling and a wide range of characters, it was only natural that the Squishmallow craze took off!
These huggable plushies continue to win hearts with their irresistibly soft cuddles and sweet faces - let's see you try to collect just one!
Is Squishville the same as Squishmallow?
Squishville is the newest addition to Squishmallows! It doesn't just boast unbelievably soft characters. Its one-of-a-kind playsets are made entirely of plush material!
And they are perfectly sized. Each mini plush measures two inches tall. These are also the first play sets crafted only from cozy, plush materials!
Can you put Squishmallows in the washer? Or in the dryer?
For best results and long-lasting cuddliness, don't put a Squishmallow in a machine washer or submerge it in water.
The best way to clean these cutest plush toys is by spot cleaning with a damp cloth. For longest life, do not put your Squishmallow in the dryer. It's best to let it air dry.
That said, life is crazy and Squishmallows are well-loved and constantly squished by kids of all ages who really do take them everywhere!
If necessary, machine wash with mild detergent, and tumble dry low.
I'm a parent, so I get it! But please hand wash and air dry those with delicate parts and pieces or other special appliques, fuzzy materials, accessories, and ornaments.
Are there customer reviews or testimonials available regarding quality and value?
Yes! Customer reviews and testimonials are available regarding the quality and value of these items. You can find them by clicking through the buttons above and also on third-party review sites.
Squishmallows get tons of positive feedback! And once in a while you get to see a cute fan video!
How can you tell if your Squishmallow is rare?
This essential information is coming straight from the Squishmallow Fandom site!
➡️ https://squishmallowsquad.fandom.com/wiki/Rarity_Scale
"On April 19, 2022, Squishmallows revealed a new six tier Rarity Scale that would start appearing on tags to denote specific limited edition Squishmallows. Any Squishmallow with a rarity label has a maximum number of units that will ever be manufactured of them before their design is retired permanently."
Read all about the Rarity Scale and these 6 Tiers through the link above. The absolute rarest Squishmallows are part of the Founder's Redemption Card hidden in Squishmallows Trading Card Packs.
Keep in mind that price, collectibility, and resale value can also be impacted by additional factors such as the amount of inventory for sale and other special features and colors on any Squishmallow released.
What are Squishmallow Hug Mees?
Squishmallows Hug Mees are a super cute category of Squishmallows that have 3D arms and legs that make them super soft, huggable plush toys. They are made from a special marshmallow-like material that is designed to be both huggable and squeezable.
Squishmallow Hug Mees come in a variety of sizes, shapes, and colors, and are perfect for cuddling and playing. They are perfect for kids of all ages and make great gifts for any occasion.
Who was the very first Squishmallow?
Who else was In the original Squishmallows Squad?
Squishmallow Squads have become "official" collections of similarly-themed characters.
There were eight original Squishmallows brand characters in the original Squishmallows squad available at Walgreens.
How Many Cams Are There?
Oh my gosh, a gazillion? Well, there are sizes from 2" to 16" so far, but we can imagine we'll see more of him!
He's also been seen in a Santa hat, a giraffe costume, winking, and wearing headphones! At his 5th anniversary, he sported one tie-dye ear! He's also been seen as a backpack, a Hug Mee, a Stackable, and a Cuddler.
We get the idea he loves his role as an ambassador for all things Squishmallow!
Get Crackin'! (Get It - Cracking an Easter Egg!)
Easter is getting closer and it's time to choose the perfect Squishmallows for your celebration!
The New 2023 Easter Squishmallows Holding a Decorated Egg are sure to be a hit with children of all ages. These cuddly, fun stuffed animals come in bright springtime colors and will bring cheer to any Easter celebration.
We're not saying you don't need any chocolate Easter bunnies or candy - we're just saying you do need an Easter Squishmallow!
With their cute little eggs and bright smiles, these Squishmallows are just what you need to make your holiday extra special!
Don't miss out on your chance to get the best Easter Squishmallows! Click the buttons below each product for more information, up-to-date pricing and delivery options so you know you're getting exactly what's right for you.
And don't forget to check out our articles below or visit the Squishmallow Store for more cuddly friends!
Wishing you a blessed Easter filled with joy and happiness!
😀
Before you leave, please
subscribe!
You will be the first to see reviews and recommendations on our newest favorites and FeedbackFinds!
You Might Also Enjoy These Squishmallow Collections:
And here's an article I contributed to LucksList!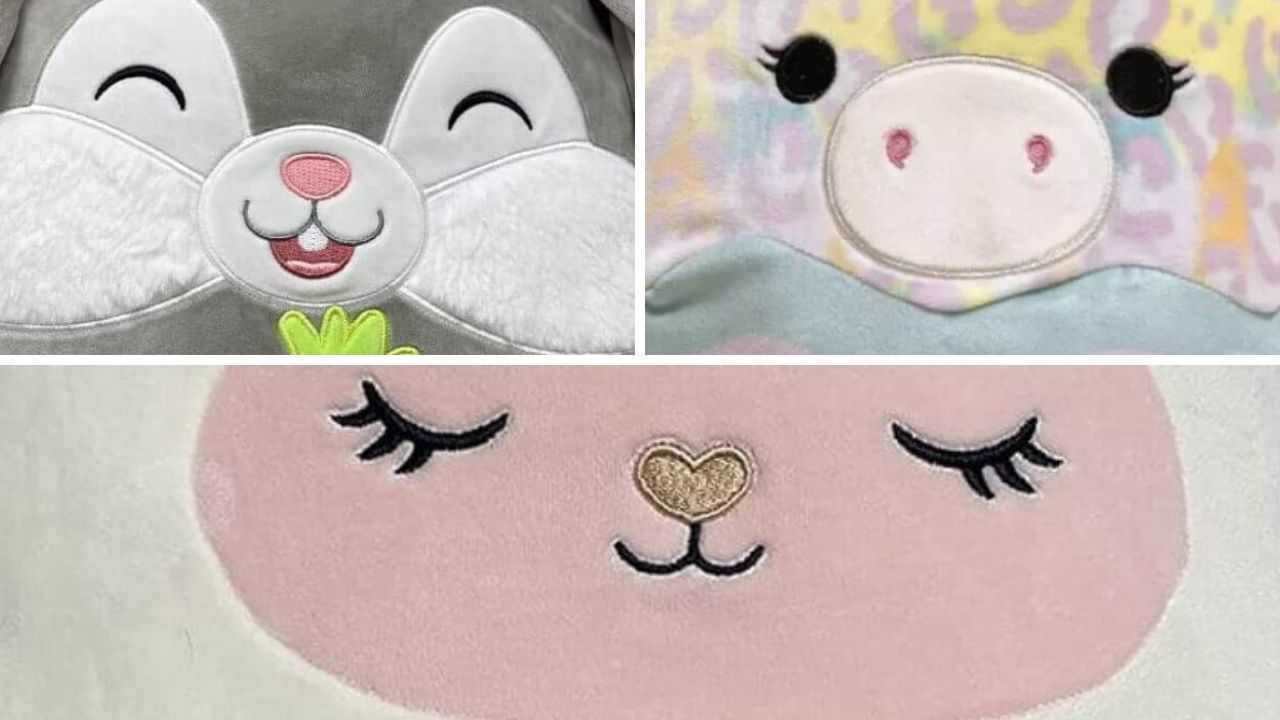 Would you love to do what I do? Blog and talk about your favorite products all day? Learn how ordinary people make money on the internet by watching this
free virtual workshop!
---
Why do you recommend Amazon to buy your Squishmallows?
When you purchase these stuffed animals from an Amazon seller store website, you'll have the best opportunity for easy checkout and speedy delivery! You'll most likely save money on shipping and be able to track when your items are shipped.
You can also contact Amazon support by phone or chat. They will accept returns and address concerns if needed. Plus you'll save time and frustration by shopping through your online browser on your device instead of trekking through the mall or specialty stores, including drugstores like Walgreens, and ads where you can't confirm availability without visiting the store.
Inventory and item stock will vary by sites that sell privately. It's also a great opportunity to search all kinds of categories, apply filters, confirm details, and view satisfied customer videos for the perfect match based on your interests and preferences!