Valentine's Day is just around the corner, and it's time to treat your special someone to something special!
Check out our review of the new Valentine's Squishmallows 2023 collection! We guarantee it'll be love at first sight!
Squishmallows are the perfect gift for Valentine's Day! These soft, cuddly, and oh-so-adorable stuffed animals are sure to make anyone feel loved.
Plus, the new Valentines Squishmallows 2023 Collection features Foodie Lover Favorites like a delicious doughnut, a cupcake, a chocolate covered strawberry, and more!
With their cute and colorful designs, these Squishmallows are sure to put a smile on your Valentine's face. Plus, they are made from a super soft marshmallow-like texture that makes them perfect for cuddling.
Whether you're looking for a gift for your significant other, best friend, or family member, these Squishmallows are sure to be a hit!
Check out this article to find the perfect 2023 Valentine's Squishmallow for all your favorite Foodies!
How We Choose The Best For You!
Our Squishmallow team has personally chosen these special 2023 Valentine Squad members as their "Foodie Favorites!"
That's kind of subjective, but they all passed the super cute and cuddly test! Squishmallows are always made with high-quality construction and the most huggable marshmallow-like, soft filling.
Be Prepared: As the holiday approaches, many popular Squishmallows begin to go out of stock. (Oh, no!) Don't sweat it; there are many more adorable Valentine Squishies in our articles listed below and at the Amazon Squishmallow Store!
We always make sure the Squishmallows we choose are Official Kellytoy plush. And this special post is all about Squishmallows and Food! We take a look at the inventory available on Amazon, the current prices, the cost of shipping, and the expected delivery times to find the best choices.
Squishmallows are made with high-quality construction and the most huggable marshmallow-like, soft filling.
All we know is that you can't go wrong with any of these adorable characters!
Your Valentine is going to love the one (or three) you pick for them!
Our Top FeedbackFinds
Best Squishy Hot Chocolate Sweet Treat!
If you're looking for the perfect Valentine's Day gift that will bring a smile to your special someone, then Shantira the Pterodactyl is the one! This festive Squishmallow is sure to be the star of any celebration with her bright red mug filled with sweet hot cocoa.
Not only is she cozy and cuddly, but she also loves to knit! With enough yarn to build a house, this fantastic Squishmallow will provide hours of fun and entertainment for your loved one - making it the perfect present. Don't miss out on this limited edition 2023 Valentine Pterodactyl! Get your Shantira today and make your Valentine's Day extra special!
Shop This Product!
---
Best Squishy Icing Topped Sweet Roll!
Why choose Chanel the Cinnamon Roll 2023 Valentine's Squismallow? This sweet-as-can-be Squishmallow is a real treat! Not only is she topped with delicious, squishy icing, but she also has a heart of gold.
When she's not baking in the kitchen, Chanel can be found volunteering at the local food pantry, spreading joy and sweetness to all who encounter her. She's content with cuddling and making your Valentine's Day extra special this year – so grab her while you can and show your love!
Shop This Product!
---
Best Squishy Sweet Treat Shake!
The 2023 Valentine Squishmallow is the perfect gift for your sweetheart this year! Not only is Cinnamon an adorable shake with "Love" on her tummy, but she has a best friend, Carmelita, who loves to window shop at the mall. What better way to show your love and appreciation for someone than with a cuddly companion like Cinnamon?
Plus, her squeezable body makes her the perfect squishy sweet treat to hug and share special moments. With Cinnamon's unique design, you can be sure that your Valentine won't have another one like it!
Shop This Product!
---
Best Squishy Pretzel Sweet Treat!
Why buy the new 2023 Valentine Squishmallow? It's a sweet treat with an added twist! Not only does this irresistibly squishy pretzel come covered in cinnamon and sugar, it also features Monica, the lovesick drummer. Its plush fabric is perfect for cuddling, and its soft and huggable design makes it a great companion for those cold winter nights.
Plus, Monica is full of love that will make your Valentine feel extra special. So don't wait another minute - get your hands on this limited-edition squeezable treat before they're gone!
Shop This Product!
---
Best Squishy Romantic Ramen Dinner!
This Valentine's Day, make sure to surprise your special someone with the 2023 Valentines Squad Rey the Shark! This adorable plush toy is perfect for anyone who loves to take fun photos – it comes with all kinds of fun filters and options so you can customize your photos just the way you want. What's more, this squishmallow is made from high-quality materials that are soft and cuddly, ensuring your Valentine will love snuggling up with it.
nd to make things even more special, this toy features a unique ramen dinner design that no one else has – perfect for celebrating romantic occasions! So don't miss out on this amazing toy – grab the 2023 Rey the Shark eating Ramen and make sure your Valentine has an unforgettable holiday this year!
Shop This Product!
---
Best Squishy Sprinkled Donut Treat!
Give your special someone the gift of snuggly sweetness this Valentine's Day with Celestina the Dragon 2023 Valentine Squad 8 Squishy Sprinkled Donut Treat! Not only is she irresistibly soft and cuddly, but she also loves bubble baths and bathrobes – the perfect way to show your love and appreciation for that special someone.
Celestina's bright colors, perky ears, and cute face will make anyone smile. Plus, her silvery wings are fashion-forward! She's sure to become a beloved part of your home this Valentine's Day!
Shop This Product!
---
Best Squishy Strawberry Sweet Treat!
Scarlet the White Chocolate Dipped Strawberry 2023 Valentine's Squishmallow is the perfect sweet treat for any special occasion! This squishy strawberry-shaped plush is made from super-soft marshmallow-like fabric and topped with a generous layer of delicious white chocolate.
Not only does Scarlet look delicious, but she's also got big dreams of becoming a costume designer and performer on Broadway. So why not give your loved ones the gift of Scarlet this Valentine's Day? With her adorable face, sweet personality, and softness, you won't be disappointed! Plus, don't forget to snap some pictures with her to post on her social media profile - she's sure to get plenty of likes!
Shop This Product!
---
Best Squishy Boba Tea Sweet Treat!
Gigi the Cat is more than just a cute and cuddly addition to your Valentine's Day squad – she's also a sweet treat that can fuel your day! This 8-inch Squishmallow loves nothing more than snuggling up for some quality time and sipping her favorite fuel: apple juice!
She's the perfect combination of squishy comfort, boba tea sweetness, and powered-up fun that will make you want to add her to your collection. Snuggle up with Gigi this Valentine's Day and show your love with one of the cutest and sweetest additions to any plushie squad!
Shop This Product!
---
Best Squishy Cupcake Sweet Treat!
Gustavus the Dog is the perfect Valentine's Day Squishmallow for 2023! This pup has a heart of gold and will be sure to make your special someone feel extra loved this year. He's got no interest in cookies, just cupcakes! He's got friends galore, but sometimes he just wants to take some time to think things through - so why not give him a home with you?
His fluffy fur and comforting presence will bring warmth and joy to any room. Not only that, he's made with high-quality materials, meaning he'll last you for many more Valentine's Days to come! Get ready for cuddles, snuggles, and plenty of affection when you gift your loved one Gustavus the Dog for 2023!
Shop This Product!
---
Valentines Squishmallows 2023 FAQs
How do you choose the perfect gift for your special Valentine?
The 2023 Valentine Squad has the most adorable sweet treat squishies to choose from.
To answer the most frequently asked questions about Squishmallows, you can read our articles with everything you need to know! And, we've got a couple of extra questions below!
How can you tell if a Squishmallow is rare?
Instead of copying and pasting everything they have to say, we're bringing you this information straight from the Squishmallow Fandom site!
➡️ https://squishmallowsquad.fandom.com/wiki/Rarity_Scale
"On April 19, 2022, Squishmallows revealed a new six tier Rarity Scale that would start appearing on tags to denote specific limited edition Squishmallows. Any Squishmallow with a rarity label has a maximum number of units that will ever be manufactured of them before their design is retired permanently."
Learn all about the Rarity Scale and the 6 Tiers through the link above. The absolute rarest Squishmallows are part of the Founder's Redemption Cards that are hidden in Squishmallows Trading Card Packs.
Remember that price, collectibility, and resale value are difficult to measure and can also be impacted by factors such as the amount of inventory for sale and other special features, styles, and colors on the Squishmallows released.
Got a Sweet Tooth?
These top 9 Valentine Squishmallows of 2023 are holding their favorite sweet treats and are impossible to resist! What a great year for squishy, loveable friends.
Make sure to get your orders in early so you don't miss out on the perfect Valentine's Day gift for that special someone in your life.
At least one of these is going to steal your heart! Order yours today and be prepared for a Valentine's Day full of love and squishes!
Use the buttons below each product or the quick links below to get more information, current pricing, and delivery options on the products that are right for you!
And don't forget, if your favorite Squishmallow is out of stock at holiday crunch time, visit the Squishmallow Store to find another sweet favorite!
Have a sweet, sweet day!
You Might Also Enjoy These Articles:
Get hopping on your Easter shopping with this article we contributed to LucksList!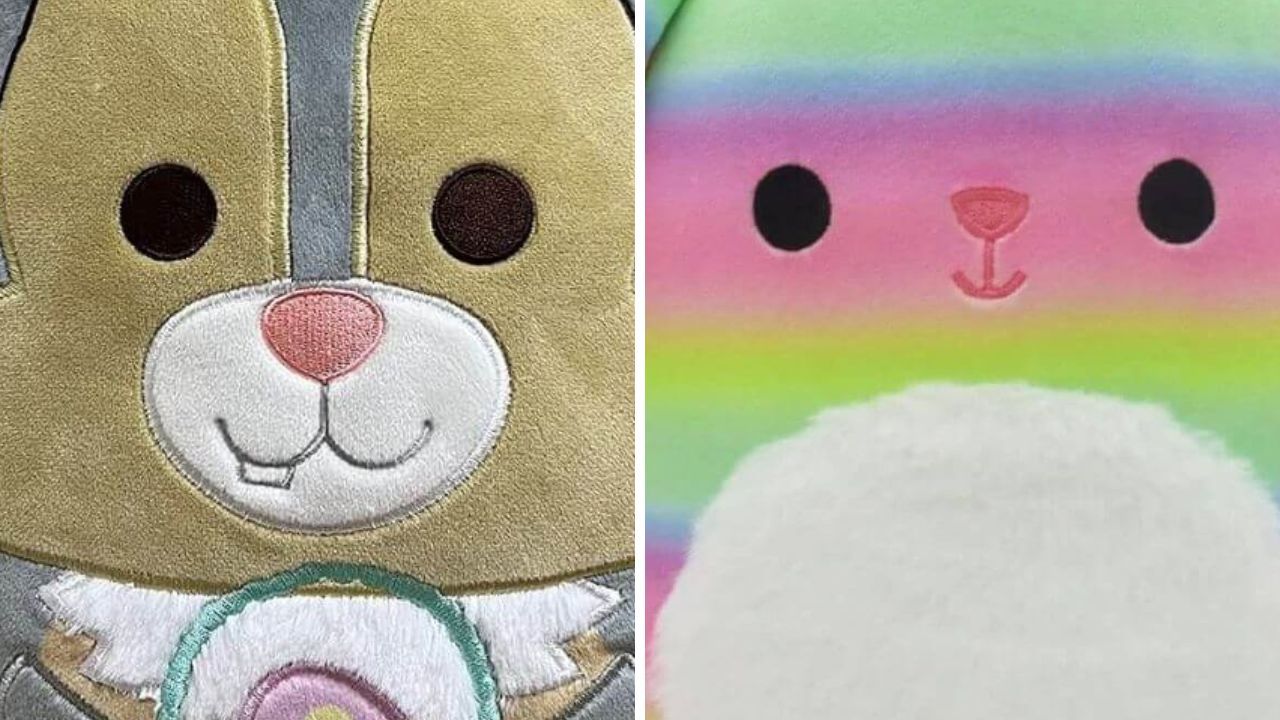 *️⃣
As an affiliate and associate of Amazon and other products, we do earn from certain qualifying purchases.
You can
read more about us here.
Would you love to do what I do? Blog and talk about your favorite products all day? Learn how ordinary people make money on the internet by watching this
free virtual workshop!
Why do you recommend Amazon to buy your Squishmallows?
When you purchase these cute-as-a-button stuffed animals from an Amazon seller store website, you'll have the best opportunity for easy checkout and speedy delivery! You'll most likely save money on shipping and be able to track when your items are shipped.You can also contact Amazon support by phone or chat. They will accept returns and address concerns if needed.
Plus you'll save time and frustration by shopping through your online browser on your device instead of trekking through the mall or specialty stores, including drugstores like Walgreens where you can't confirm availability without visiting the store.
Inventory and item stock will vary by sites that sell privately. It's also a great opportunity to search all kinds of categories, apply filters, confirm details, and view satisfied customer videos for the perfect match based on your interests and preferences!